Last Updated on July 25, 2023 by Staff Writer
Tampa Fishing Charters offer a unique blend of thrill and tranquility.
For many, fishing is a way to break away from the every day and find peace. But if you're not familiar with Tampa Bay waters, charting your own course can be daunting.
Enter Captain Jason Dozier: your guide to unlocking the secrets of these fruitful fishing grounds. With his expertise and local knowledge, even first-timers feel like seasoned anglers on board his custom-built Bonefish 26′ Malvado.
The beauty of Tampa Fishing Charters lies in their versatility; whether you're after the adrenaline rush of super skinny water sight fishing or want to enjoy some quiet time amidst nature's bounty – there's something here for everyone!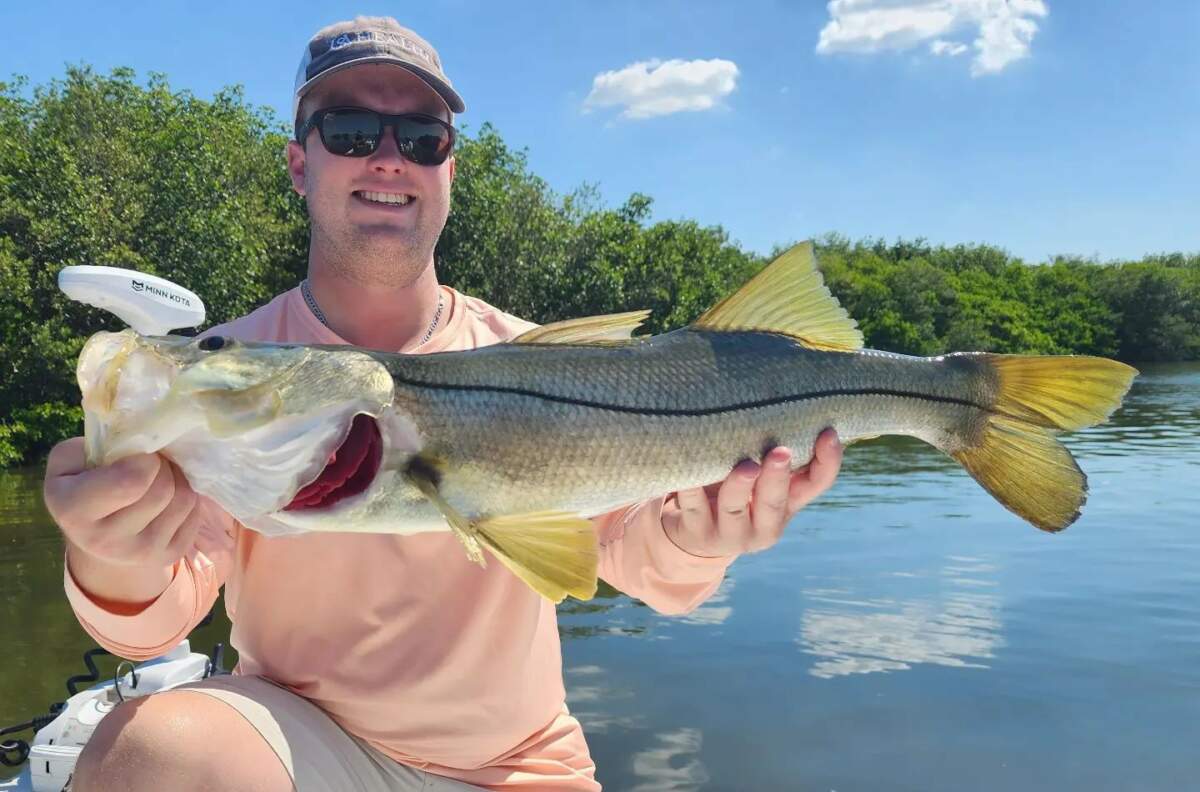 Tampa Fishing Charters: An Adventure with Captain Jason Dozier
Imagine hitting the water on a Tampa fishing charter, guided by none other than native expert and seasoned angler Captain Jason Dozier. His extensive local knowledge, combined with his unwavering commitment to client satisfaction, ensures that every Florida fishing trip is an unforgettable experience.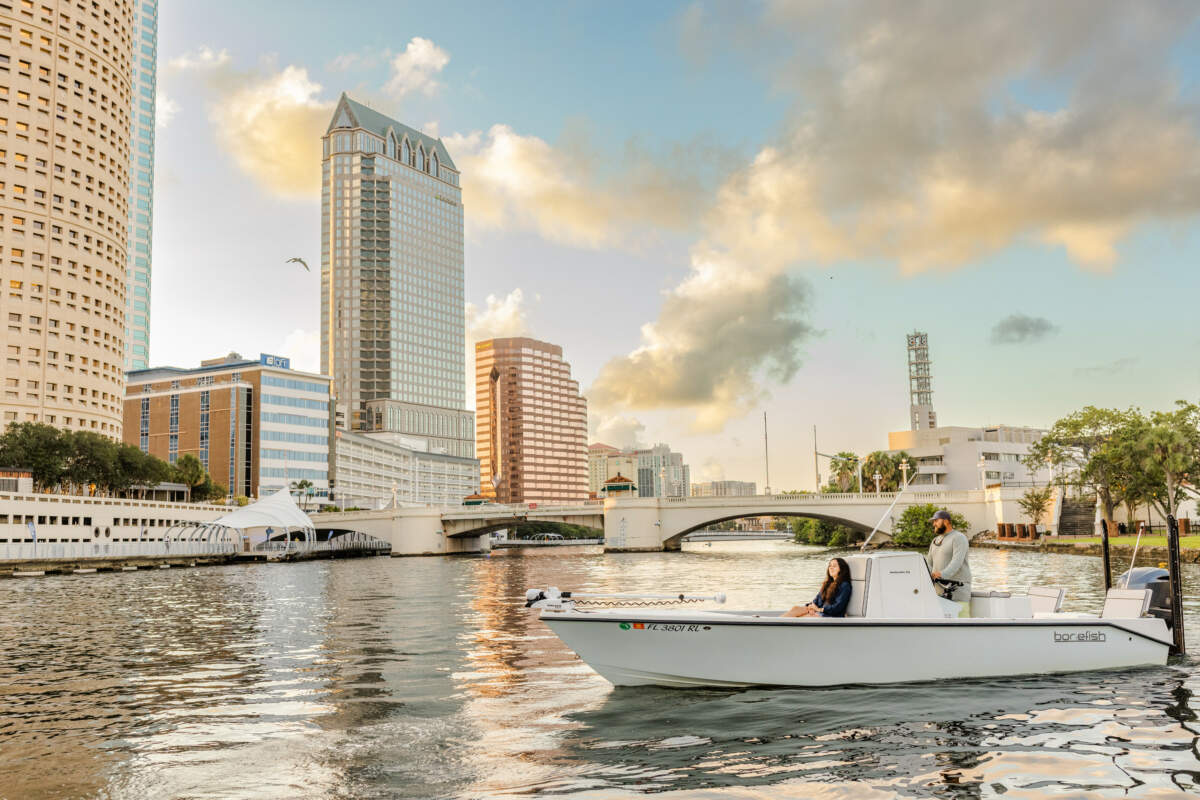 A standout feature of FishN Fl, among other Tampa Bay charters, is their custom-built Bonefish 26′ Malvado. This powerful vessel, capable of speeds up to 50mph, provides smooth sailing across diverse conditions in Tampa Bay for exciting flats fishing adventures.
Mastering the Art of Fishing with Captain Jason Dozier
The success and enjoyment of any fishing expedition rely heavily on mastering key skills such as bait choice and fishing techniques. Fortunately, our very own Captain Jason Dozier generously shares these insights during each charter journey.
Beyond practical tips like rigging methods or selecting appropriate gear based on weather conditions or target species, he also imparts valuable lessons about respect for nature and responsible practices while indulging in your favorite pastime. These enriching experiences transform ordinary Florida trips into insightful journeys into the artistry behind successful angling.
Fishing enthusiasts greatly value this wisdom because it helps enhance their skills, whether they're beginners exploring new waters or experienced anglers seeking fresh challenges in unfamiliar territories. Regardless if you prefer grass flats fishing or deeper water expeditions, having someone like Captain Jason at your side can significantly improve your overall experience while ensuring safety throughout your adventure.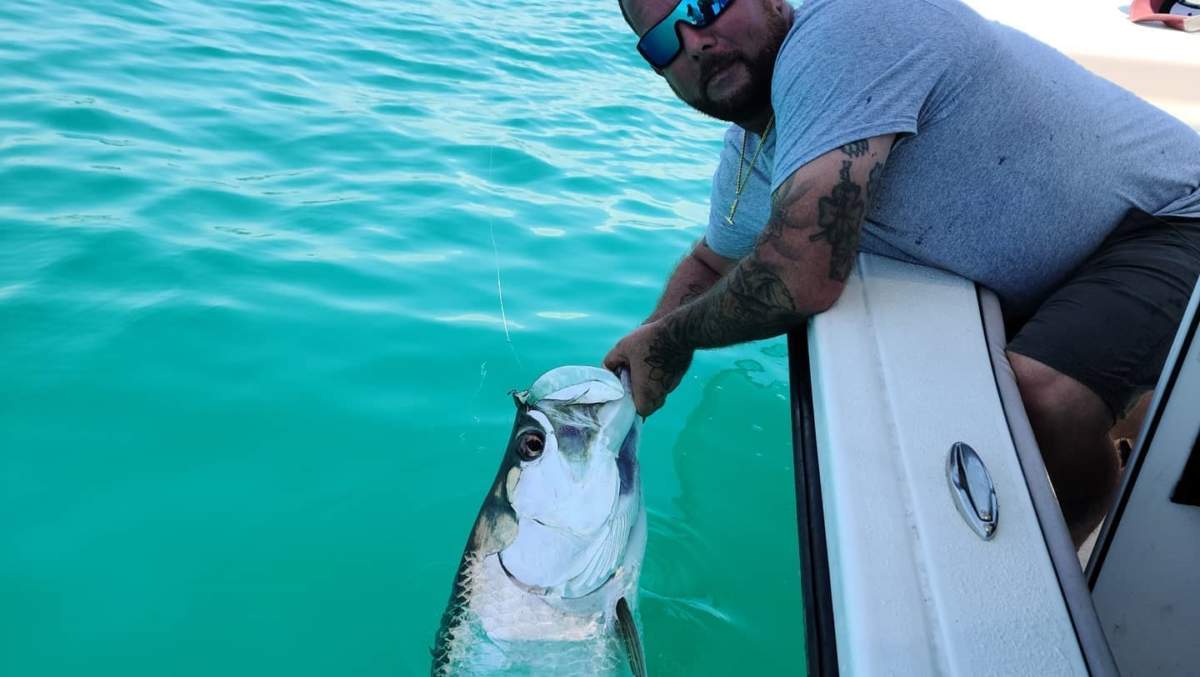 All Tampa Fishing Charter Types
Inshore Fishing Charters
Tampa Bay's fame as a hotspot for shallow water flats fishing is truly justified, given that it boasts the largest shallow-water estuary throughout Florida. It's also the abode for Florida's most coveted inshore game fish, including the likes of redfish, snook, and trout.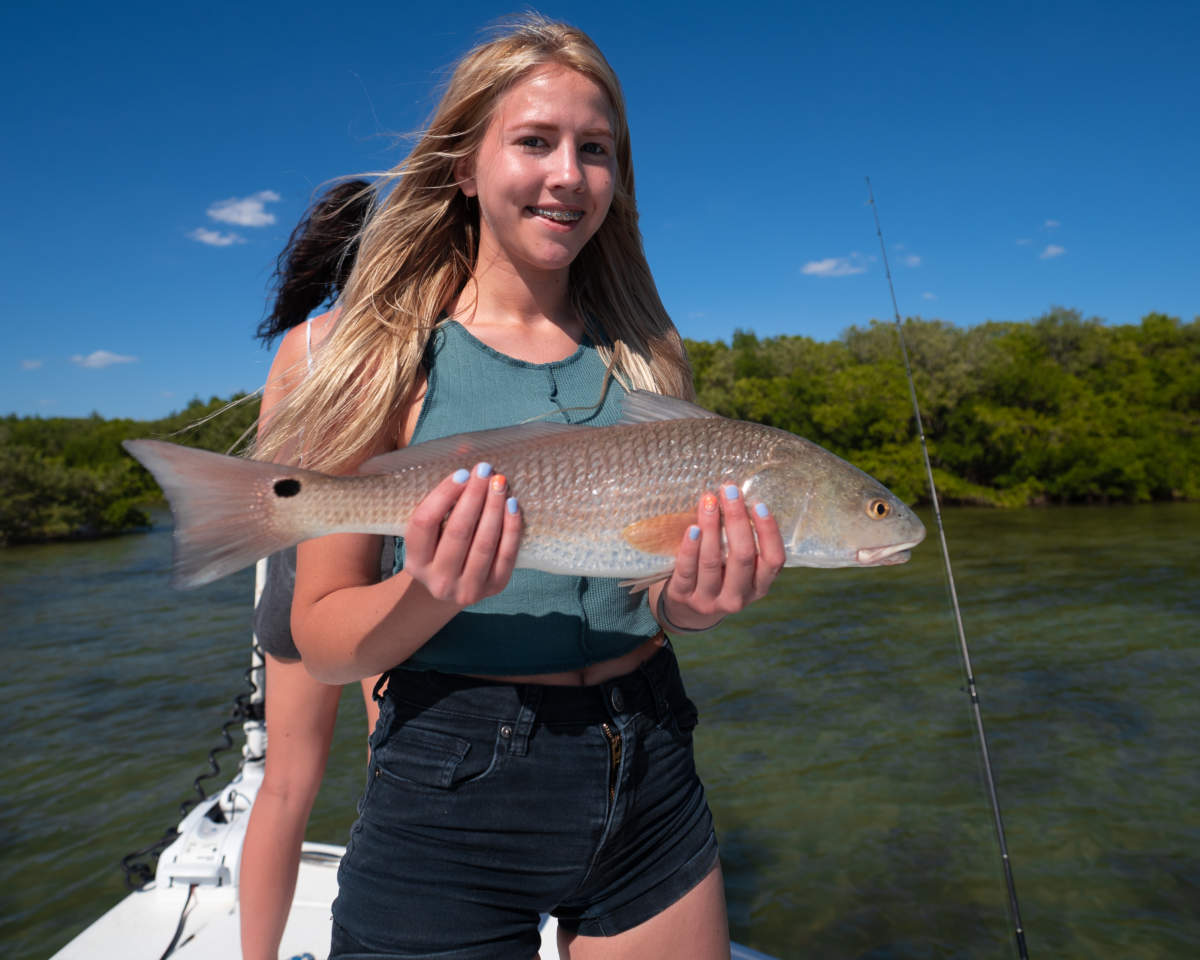 The Bay is intricately fed by numerous creeks and rivers, covered by sprawling oyster bars and grass flats, and encircled by shores bedecked with mangroves. A diverse array of fishing experiences awaits you here, whether it's sight fishing in super skinny waters, river fishing, or grass flats fishing. Undeniably, Tampa Bay hosts some of Florida's most thrilling flats fishing adventures.
No matter if your goal is to chase a particular species or attempt to reel in a wide variety of fish, Tampa Bay is your ultimate destination. To top it off, Capt. Jason stands as the guide par excellence to lead your fishing expedition and ensure you find your desired catch.
Skinny Water Sight Fishing
If traditional deep-sea excursions offered by most Tampa Bay charters aren't quite cutting it, then super skinny water sight-fishing might just be what you need. This method involves hunting down game fish lurking around shallow water flats, adding another layer of excitement to an already thrilling sportfishing endeavor.
Catching Inshore Game Fish
Inshore game fish are some of the most sought-after catches worldwide due to their fight spirit, size, and potential trophy status. Understanding what makes them tick and where to find them requires extensive knowledge of the local aquatic ecosystem. Luckily, our Florida native captain has spent countless hours studying the habits and habitats of various species around the area, making him the ideal guide to help clients reel in the big ones.
Key Takeaway: 
Book a Tampa fishing charter with Captain Jason Dozier, where you'll experience exhilarating flats fishing adventures and gain valuable insights into the art of angling. Every trip is an enriching journey from mastering bait choice and fishing techniques to understanding responsible practices. Try your hand at skinny water sight-fishing or aim for prized inshore game fish under the expert guidance of our seasoned captain, who knows exactly how to reel in the big ones.
Skinny water sight fishing is an exciting form of shallow water flats fishing that provides a unique Tampa Bay fishing experience. This method allows anglers to venture into the less traversed, shallower parts of Tampa Bay where larger vessels cannot reach.
This style requires precision and patience but rewards with unforgettable catches and stories. The thrill lies in catching the fish and spotting them in clear waters against sandy bottoms or grass flats – hence the term 'sight' fishing.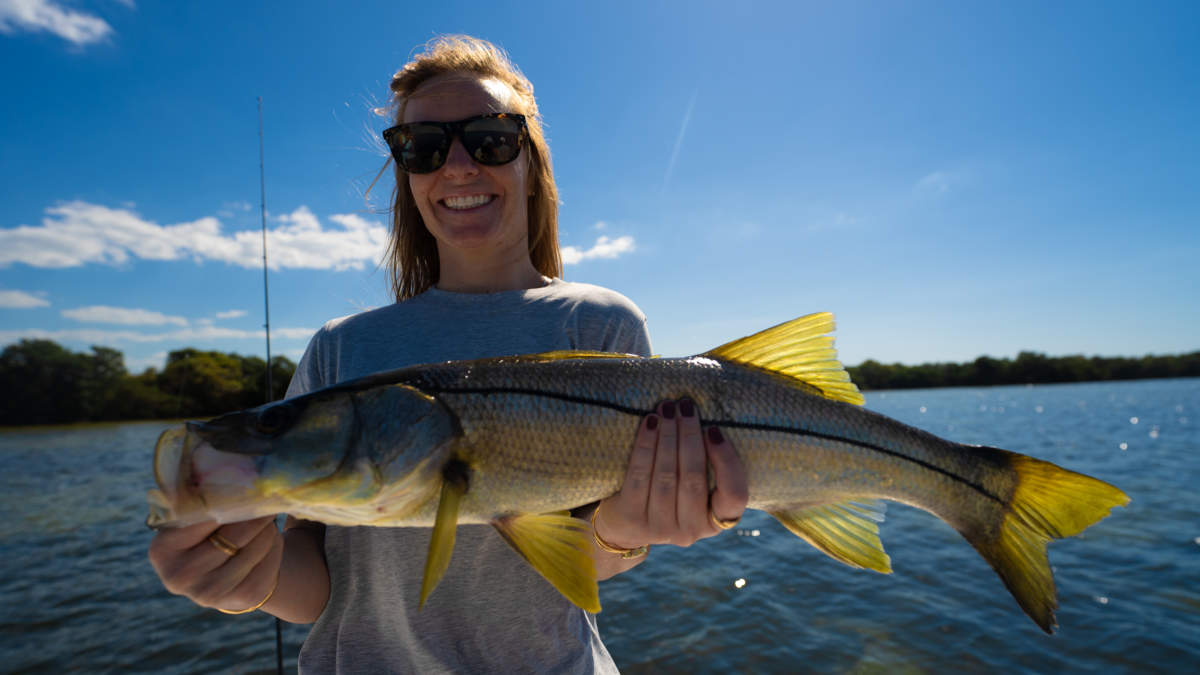 Tampa Bay's diverse marine ecosystem makes it home to a variety of prized inshore game fishes such as snook, redfish, tarpon, and spotted sea trout. These are some sought-after targets for super skinny water sight fishermen due to their fighting spirit when hooked.
Tampa Tarpon Fishing Charters
Experience the exhilaration of large-scale fish action that will leave your rod bending and your drag screaming! Tampa Bay is renowned for one of the most substantial tarpon migrations worldwide. Every spring and summer, thousands of these mammoth silver creatures flood our shores, meeting our resident fish for their annual spawn.
The thrill of hooking a 100lb tarpon, the sound of the reel's drag screaming, and witnessing its awe-inspiring leap into the air is unmatched. Known as the ultimate inshore game fish, tarpon are sure to put a broad smile on your face. Once you've hooked one, it's a guarantee you'll be a tarpon enthusiast for life.
Tarpon season keeps Capt. Jason especially busy, so early bookings are recommended to secure your preferred dates. If you've fantasized about catching a fish that matches or exceeds your own weight, that shoots into the air, and leaves you breathless yet grinning from the immense satisfaction once the fight is over, tarpon fishing is undoubtedly for you.
Tarpon season is in full swing during May, June, and July, and FishN Fl. offers tarpon fishing charters from O'Neill's Marina in St. Petersburg, FL. For an optimal fishing experience, 1-3 anglers are recommended, although a 4th person can be accommodated. However, with 4 anglers, not all may be able to fish simultaneously.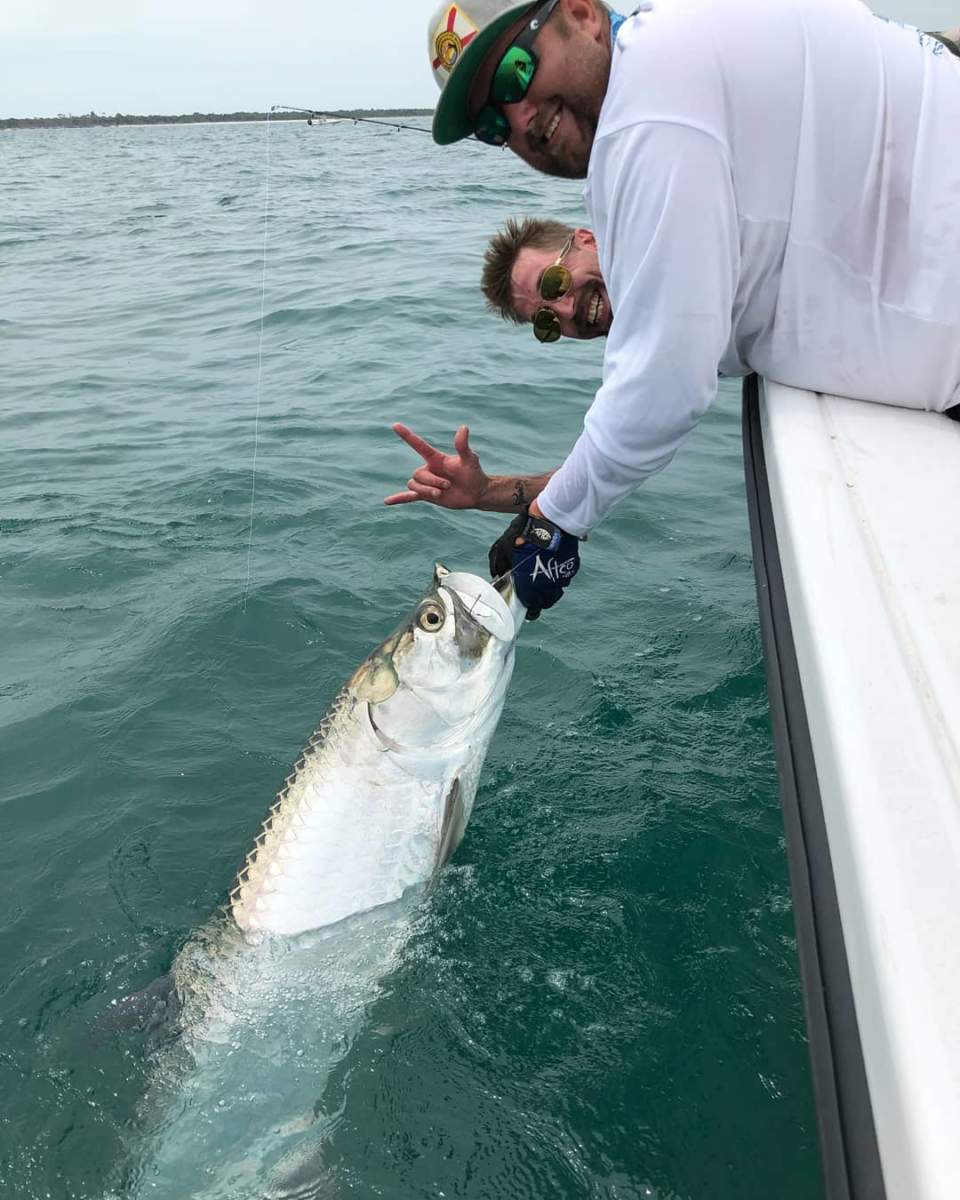 On an average tarpon charter, expect to hook between 5 and 7 fish, with approximately half being landed. Some days can yield up to 20 fish, and it's exceptionally rare to leave empty-handed. Our average tarpon weighs between 80lbs and 120lbs, thanks to the strong adoption of catch and release practice, and occasionally, we even hook ones nearing 200lbs.
Each tarpon is unique – while some put up a show leaping and making long runs, others may just 'bulldog' you. An average 100lb tarpon fight ranges between 20 to 30 minutes, but occasionally, it can extend up to an hour. To ensure swift fish revival and avoid exhausting you, we aim to land fish as quickly as possible, providing tips during the fight.
While we prioritize preserving our fishery and abiding by the law, you can still capture your memorable catch. Pictures taken while the tarpon is partially in water and alongside the boat turn out exceptionally well. A useful trick during tarpon fishing is to 'bow to the king' or extend the rod towards the fish when it jumps, giving it slack to prevent the line from breaking or the fish from pulling the hook – a tip that might take a few tries to get used to, especially for freshwater anglers.
Tampa Offshore Fishing Charters
Embarking on offshore fishing charters from Tampa Bay promises exhilarating and fruitful fishing adventures. Whether your aim is to pack a cooler full of delectable fish or simply keep your rod perpetually active, this charter perfectly aligns with your aspirations!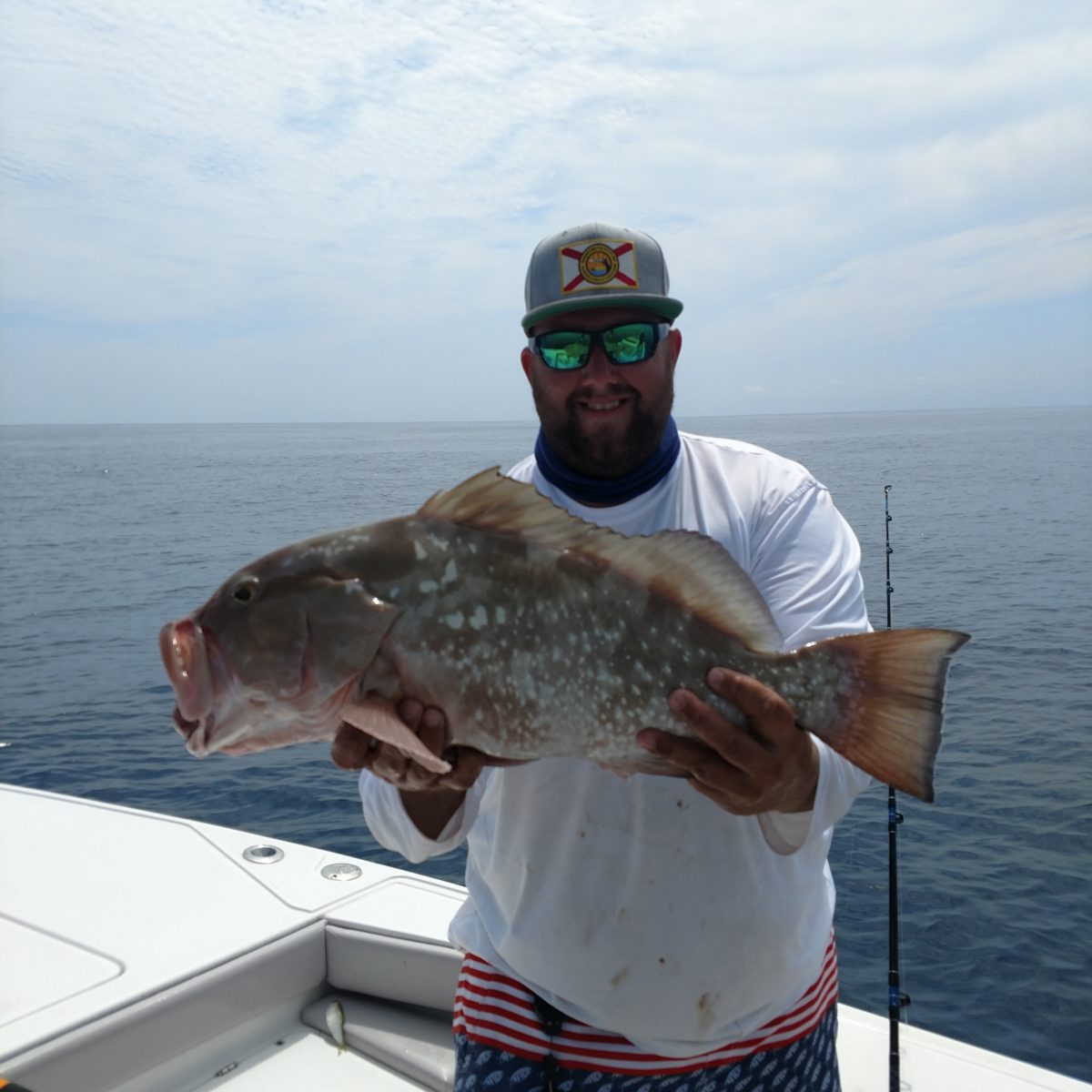 Based in Tampa, Florida, all our offshore fishing charters grant you access to an astonishing variety of fish. Be it grouper, mangrove snapper, amberjack, kingfish, barracuda, sharks, or any of the snapper varieties – lane, yellowtail, red – the possibilities are virtually endless! For the best catch of the day, feel free to consult with your captain regarding what's in season and biting best.
Regarding the optimum time for offshore fishing, we're pleased to inform you that our charters operate all year round, weather permitting. The time of year only matters concerning the fish species you can keep and which ones are biting the most. Rest assured, regardless of the season, you're bound to encounter many fish to catch.
Tampa Shark Fishing Charters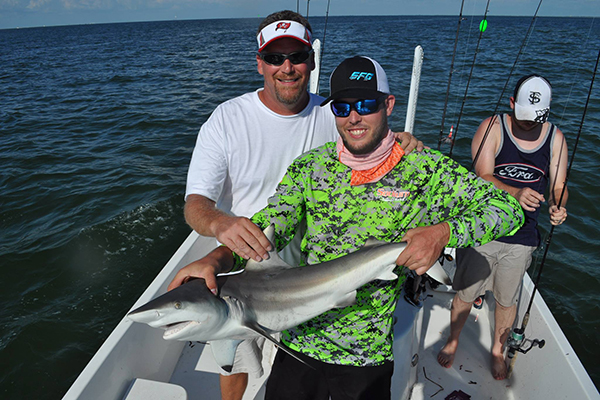 The exhilaration of Captain Dozier's Shark fishing charter is powered by the grandeur of the Sharks and the diverse population of this species in Tampa Bay. The element of surprise amplify the thrill – often, you won't know the type of shark on your hook until it's right beside the boat. The awe-inspiring sight of the shark's mighty incisors and imposing size is an experience that even the most dramatic Shark Week footage can't replicate.
Captain Dozier and his crew offer a family-friendly encounter – an opportunity to meet the ocean's most respected predator face-to-face! Nothing matches the adrenaline rush that accompanies reeling in a shark.
Tampa Bay's reputation for exceptional Shark fishing isn't a fluke. As Florida's largest saltwater estuary, Tampa Bay offers a thriving habitat for many sharks.
Tampa Bowfishing Charters
For those who love water sports and the outdoors yet lack the patience for traditional fishing, Tampa Bowfishing Charters offer a thrilling, action-packed alternative. Imagine shooting at fish until your fingers throb, all while sporting a grin that simply won't fade – that's what awaits you on a bowfishing charter!
Don't delay – book now! Our bowfishing charters operate year-round in Tampa, with each trip lasting approximately four hours. We can accommodate up to four shooters per charter.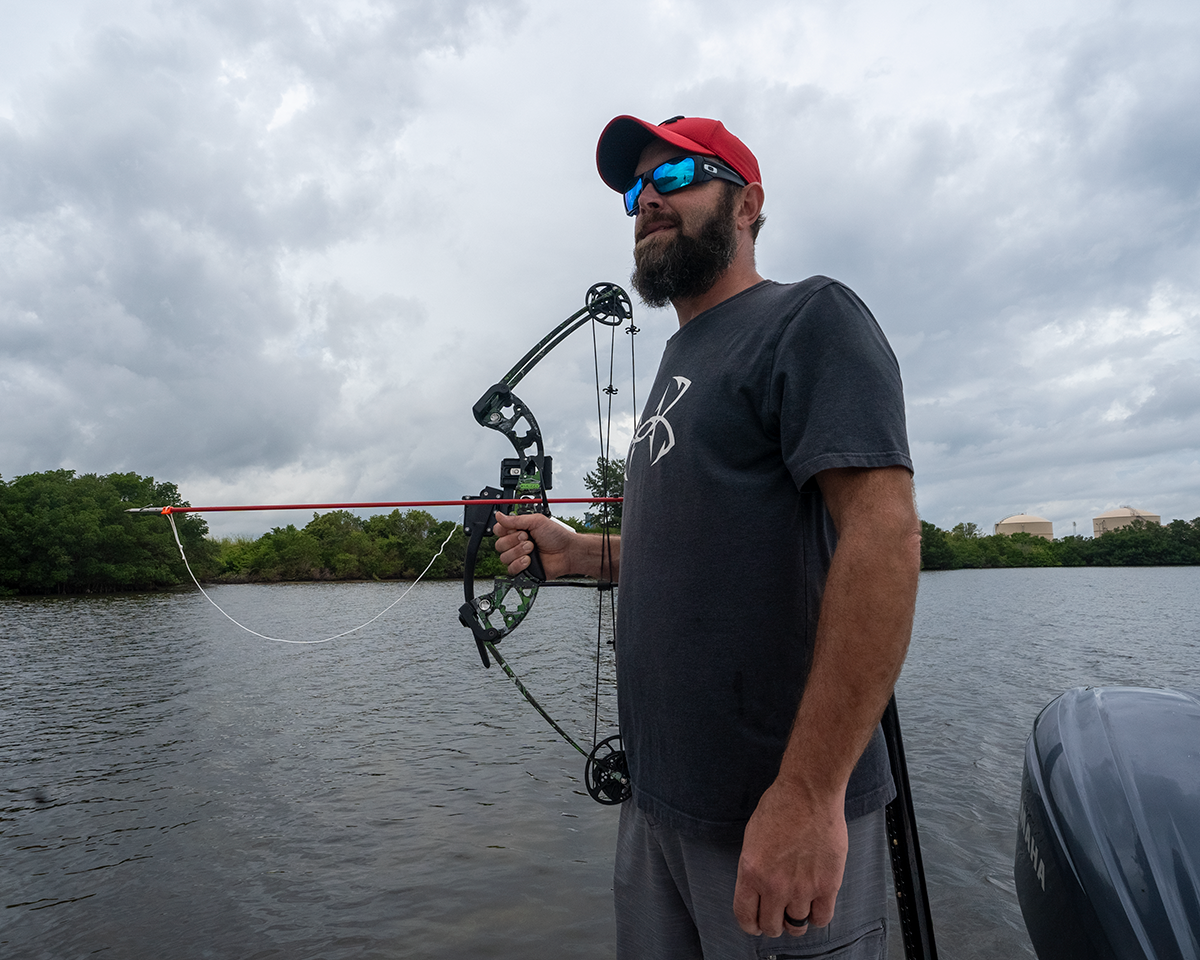 Worried about the need for a special license to bowfish? Rest easy, as all necessary licenses are provided. You'll have the opportunity to shoot a variety of fish, including Mullet, Sheepshead, Flounder, Mangrove Snapper, and Black Drum, among others. Just ensure they aren't protected species, as per the list here: http://myfwc.com/fishing/saltwater/recreational/spearing/.
If you're keen on shooting southern stingrays or cow nosed rays, you certainly can. However, we encourage responsible fishing practices, meaning you must take any shot rays home. Please note, cleaning the rays will be your responsibility.
Women and children above 10 years old are more than welcome to participate in the adventure! The bows, set to low weights, are easy to draw, making the experience enjoyable for all.
As for how many shots you'll get, anticipate at least 50+ per shooter, with the possibility of even exceeding 100+. The number of shots you make ultimately depends on your shooting skills.
Our charters include licenses, use of bows and arrows, cleaned fish (excluding rays), cooler ice, and boat fuel. Remember to bring along snacks, drinks, and a cooler for your ride home. Experience the thrill of bowfishing with us, where action and fun never cease!
Tampa Red Snapper Fishing Charters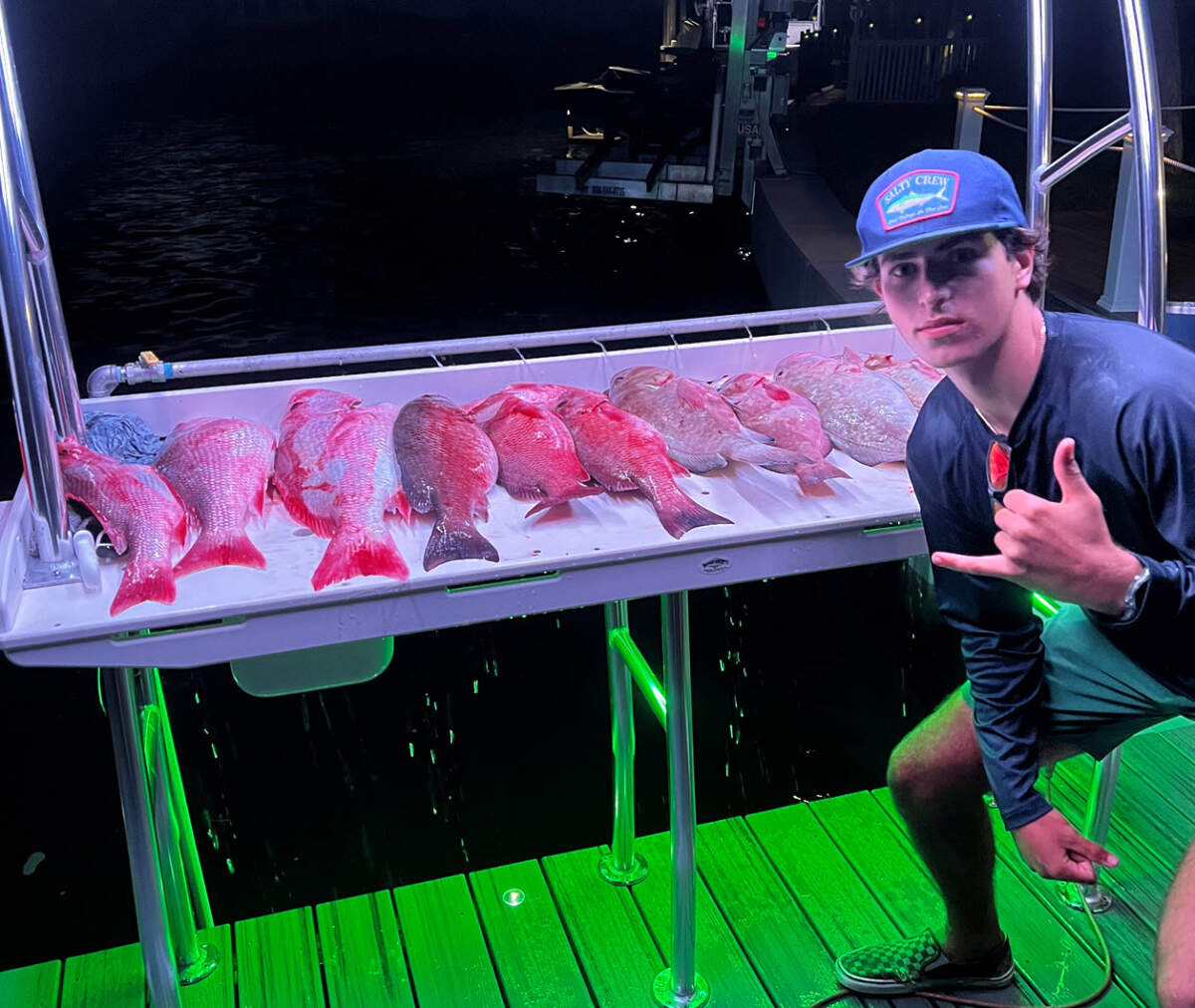 Fishn' Fl, is your ultimate charter service for the red snapper season in Tampa Bay. Our seasoned team is committed to delivering unforgettable fishing excursions, immersing you directly in the pulsating world of red snapper fishing.
We leverage our local know-how and customized strategies to ensure that each trip is a unique experience, accommodating both seasoned anglers and novices alike.
Join us as we traverse the picturesque waters of Tampa Bay, on a thrilling quest for the colorful and highly sought-after red snapper. See All Details.
Every Fish You Can Catch In or Out of Tampa Bay
Snook
Redfish (Red Drum)
Spotted Seatrout (Speckled Trout)
Tarpon
Mangrove Snapper
Sheepshead
Spanish Mackerel
King Mackerel (Kingfish)
Cobia
Grouper (various species)
Snapper (various species)
Flounder
Jack Crevalle
Tripletail
Pompano
Black Drum
Ladyfish
Bluefish
Sharks (various species)
Permit
Barracuda
Amberjack
Bonefish
Blacktip Shark
Bull Shark
Lemon Shark
Hammerhead Shark (various species)
Nurse Shark
Spanish Hogfish
Hogfish
Blackfin Tuna
Mahi-Mahi (Dolphin Fish)
Wahoo
African Pompano
Goliath Grouper
African Pompano
Red Grouper
Lane Snapper
Hogfish
Gag Grouper
Gray Snapper
Blackfin Tuna
Mutton Snapper
Red Grouper

Beyond Fishing – Other Adventures with FishN Fl
When it comes to exploring Tampa Bay, fishing is just the tip of the iceberg. At FishN Fl, we cater to all types of adventurers by offering a variety of non-fishing activities that allow you to experience and appreciate this beautiful region in different ways.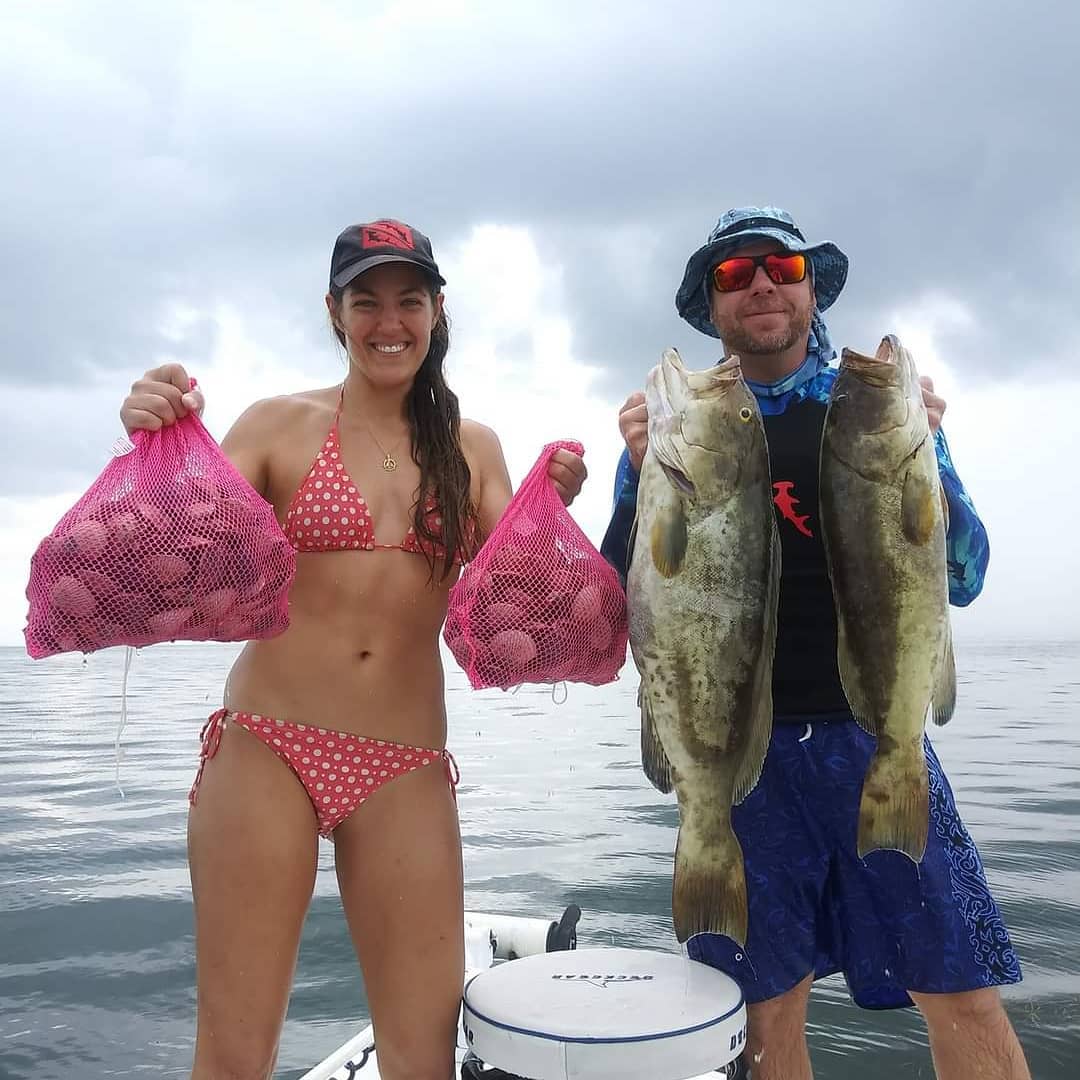 Scallop Charters – A Seafood Lover's Delight
If you're someone who enjoys diving into clear waters in search of your own dinner, then our scallop charters are tailor-made for you. Imagine snorkeling amidst vibrant marine life as you hunt down these delectable mollusks nestled within the grass flats of Tampa Bay.
The thrill doesn't end there. Once back on board, prepare yourself for an unforgettable culinary adventure as you cook and savor your fresh catch right out at sea. Trust us when we say nothing beats the taste of freshly caught scallops.
Bird Watching Tours – Spotting Exotic Birds from Your Boat
Tampa Bay's rich biodiversity isn't limited underwater; its skies too are teeming with diverse bird species, making it a paradise for bird watchers. Our specially curated boat tours take wildlife enthusiasts through picturesque waterways where they can observe exotic birds up close while basking in nature's serenity.
Pelicans swooping down onto unsuspecting fish or flamingos strutting their stuff, each sighting offers unique insights into avian behavior while immersing participants in the unparalleled tranquility offered by these idyllic settings.
Key Takeaway: 
With FishN Fl, Tampa Bay's beauty isn't just for fishing enthusiasts. From tarpon fishing to bird watching tours and easy online bookings, there's an adventure for everyone. And after a day of excitement, enjoy local seafood delicacies at waterside eateries.
Booking Your Adventure – The Ease of Online Reservations
Scheduling a Tampa fishing charter shouldn't be stressful. FishN Fl has made the process smooth and straightforward with an online reservation system that provides real-time availability and upfront pricing.
We've designed our booking process to make it effortless and enjoyable for customers, providing an intuitive online reservation system that shows real-time availability and pricing with no hidden costs.
Real-Time Availability and Reservations
The Convenience of Booking with FishN Fl
FishN Fl values your time, hence they've simplified their booking process to maximize efficiency. Their platform lets you check available dates instantly, allowing hassle-free planning of your exciting flats fishing or super skinny water sight fishing adventures in Tampa Bay.
This tool doesn't just offer convenience; it also ensures transparency by displaying clear costs for all services offered. Whether you're interested in grass flats fishing or scallop charters, there are no hidden fees; everything is laid out clearly from the get-go.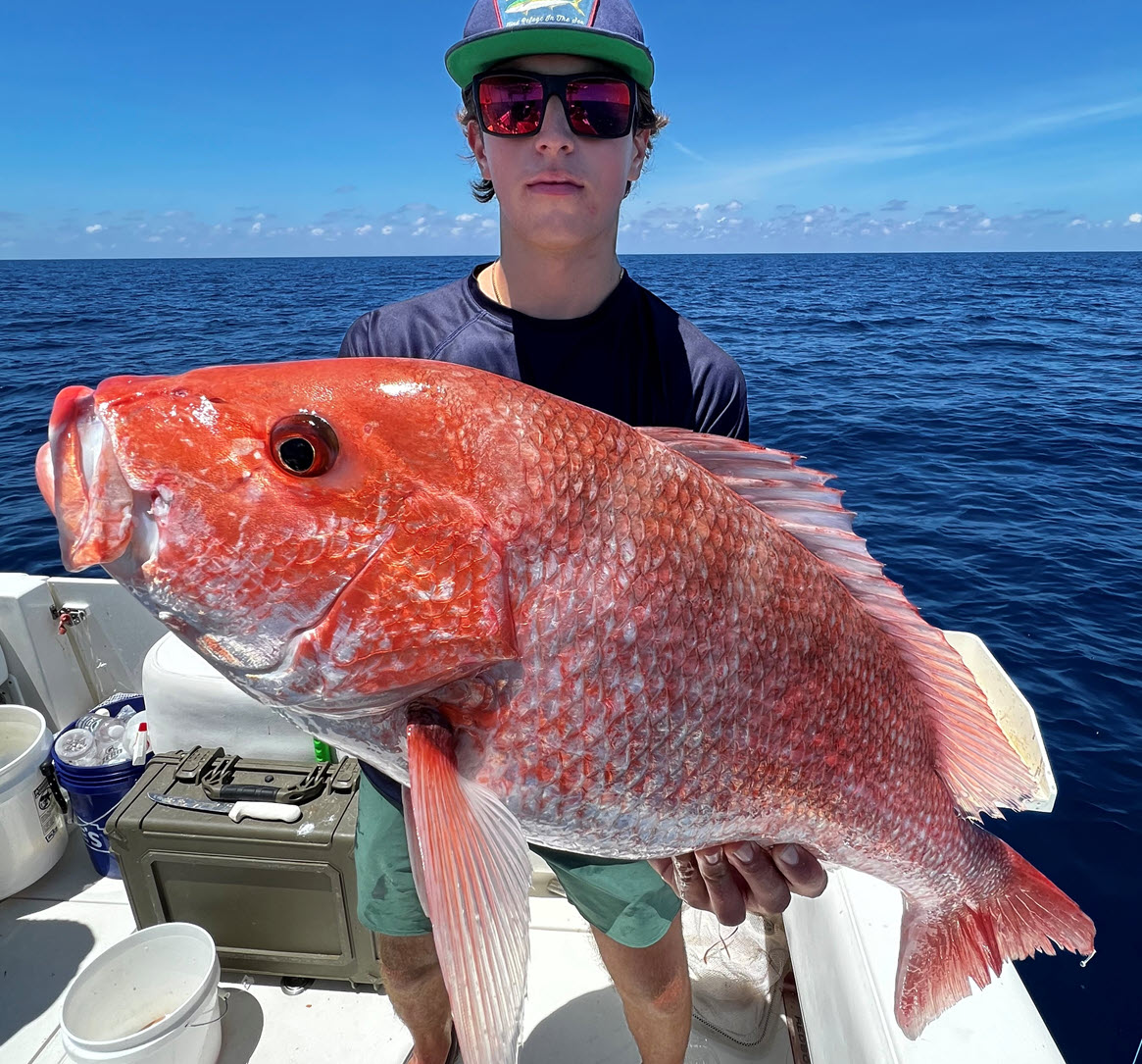 An Array of Adventures at Your Disposal
With its diverse offerings ranging from thrilling Florida Fishing trips to more relaxed shallow water flats excursions, Fishn' FL caters to everyone's taste. Even if angling isn't really your thing but you still want a piece of the beautiful Tampa Bay area experience, consider options like bird-watching tours or beach expeditions, which can be selected directly through our easy-to-use reservation system, making planning simple even when different members prefer varied activities during their visit.
Making Corporate Outings Simple
If unique corporate outing ideas are what you seek, then look no further than spending a day on Captain Jason Dozier's boat. Imagine team-building exercises while catching prized inshore game fish followed by casual networking over meals at local waterside eateries after a successful day out on the bay.
Our online booking systems' ease-of-use extends beyond individual reservations; this intuitive tool has made managing group bookings simpler.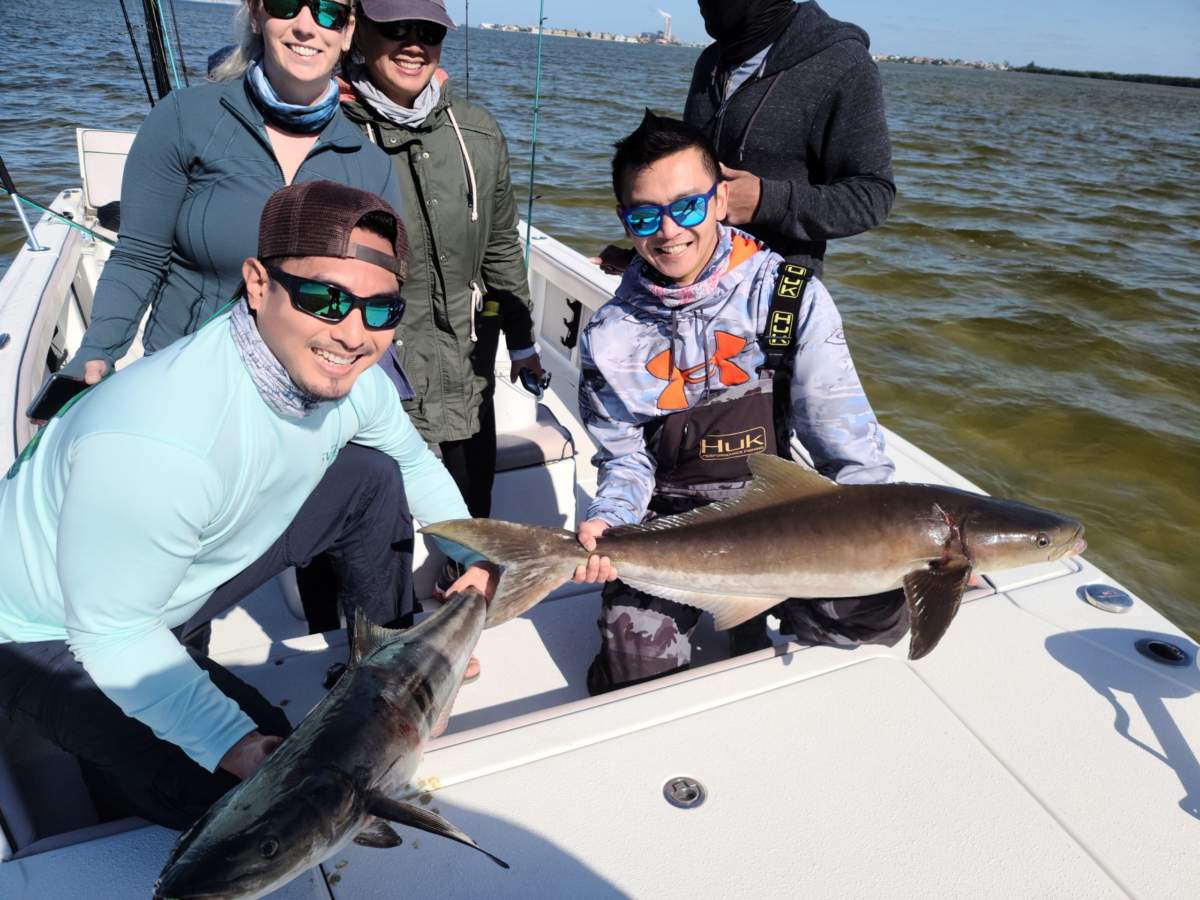 Dining Options – Waterside Eateries in Tampa Bay
An adventurous day spent outdoors naturally works up an appetite, luckily the area boasts fantastic eateries serving mouthwatering seafood delicacies after a long day at sea.
You'll find restaurants offering everything from fresh oysters straight from the Gulf of Mexico to shrimp po'boys and grouper sandwiches, all prepared using locally sourced ingredients.
Nothing complements an outdoor escapade better than a delicious meal enjoyed against the backdrop of tranquil ocean vistas. It truly makes Tampa Bay one of Florida's premier destinations for visitors looking to balance exhilarating adventures with relaxation amid stunning natural beauty.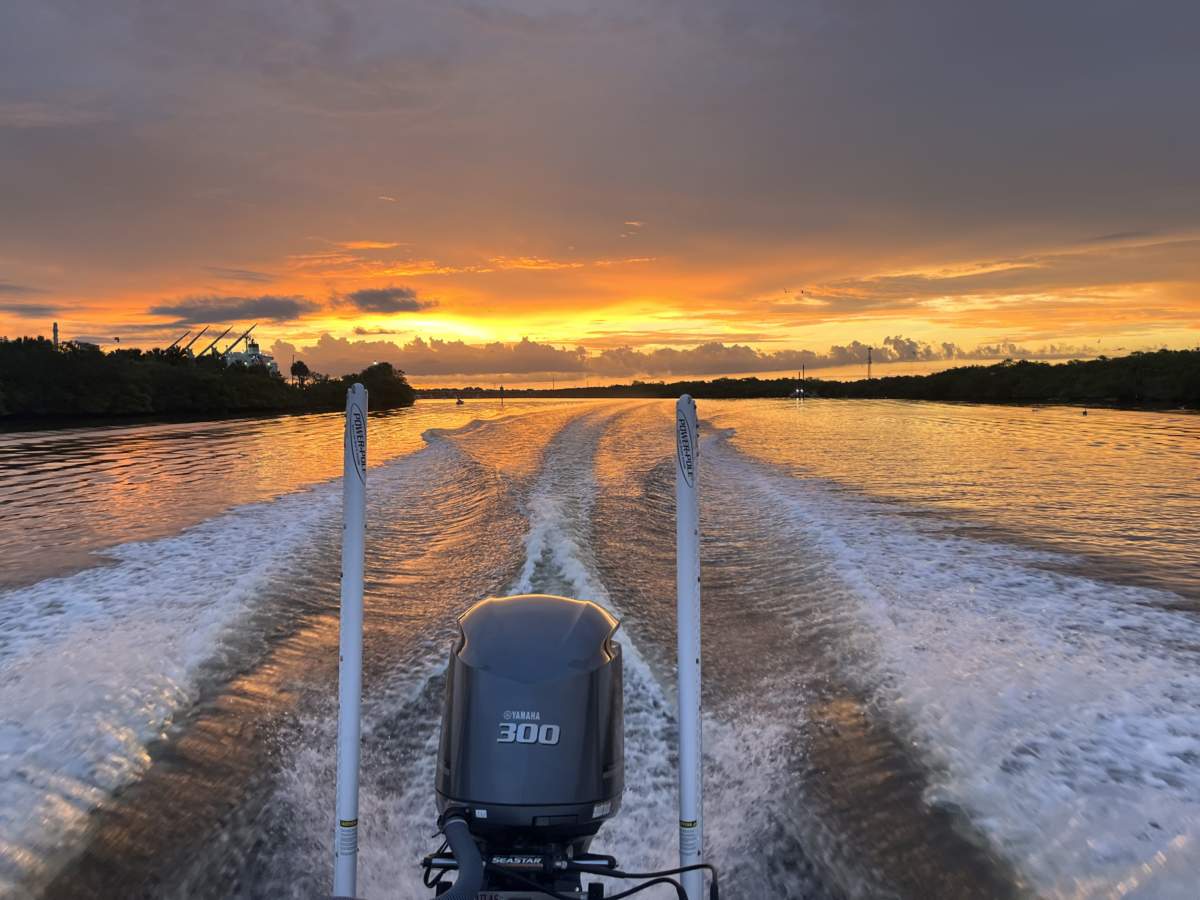 Tasting Local Delights In Tampa
Tampa boasts numerous waterfront restaurants where fresh catch-of-the-day specials take center stage. These establishments serve mouth-watering dishes prepared using locally sourced ingredients reflecting true Floridian flavors. From blackened grouper sandwiches enjoyed dockside under palm trees swaying gently sea breeze to upscale dining featuring exotic creations from award-winning chefs; food lovers will find delight after adventurous days out on water.
Key Takeaway: 
Ease into your Tampa fishing adventure with FishN Fl's straightforward online booking system, offering real-time availability and clear pricing. Enjoy diverse offerings from thrilling trips to relaxed excursions or corporate outings. Cap off the day savoring local delights at waterfront eateries around Tampa Bay.
Picture this: You've spent a day out on the water with FishN Fl, casting lines and reeling in catches from the abundant waters of Tampa Bay. Now you're back on land, your stomach is growling after all that exciting flats fishing or perhaps some super skinny water sight fishing.
Lucky for you, Tampa Bay isn't just known for its prized inshore game fish; it's also home to an array of fantastic waterside eateries where you can enjoy fresh seafood while taking in beautiful waterfront views.
The Rusty Pelican
Your first stop could be The Rusty Pelican. This local favorite offers panoramic vistas of the bay along with a menu filled with delectable seafood options ranging from seared scallops to grilled grouper.
In addition to their extensive regular offerings, The Rusty Pelican also hosts special menus during holidays and other occasions. So whether it's Mother's Day brunch or Valentine's dinner date by sunset over the water – they've got something unique planned.
Frenchy's Rockaway Grill
If laid-back beach vibes are more your style post-Tampa fishing adventures, consider heading towards Frenchy's Rockaway Grill. Renowned for their relaxed atmosphere coupled with delicious food like coconut shrimp and conch fritters – Frenchy's has become synonymous as one amongst the best casual dining spots around town.
Apart from satiating hunger pangs here at Frenchys', guests can soak up good tunes too. With live music performances regularly lined-up featuring talented local artists – there never seems to be a dull moment when enjoying a meal here amidst the cool sea breeze wafting through the air.
Many more enticing places are waiting ahead which promise unforgettable gastronomic experiences alongside stunning waterfront views – the perfect backdrop to unwind after an exhilarating day exploring the various Florida Fishing trips offered by us at Fishn' FL. Stay tuned to find out what awaits next…
Key Takeaway: 
After a thrilling day of Tampa fishing with FishN Fl, satiate your hunger at local waterside eateries like The Rusty Pelican and Frenchy's Rockaway Grill. Enjoy fresh seafood, stunning bay views, and lively entertainment for an unforgettable dining experience.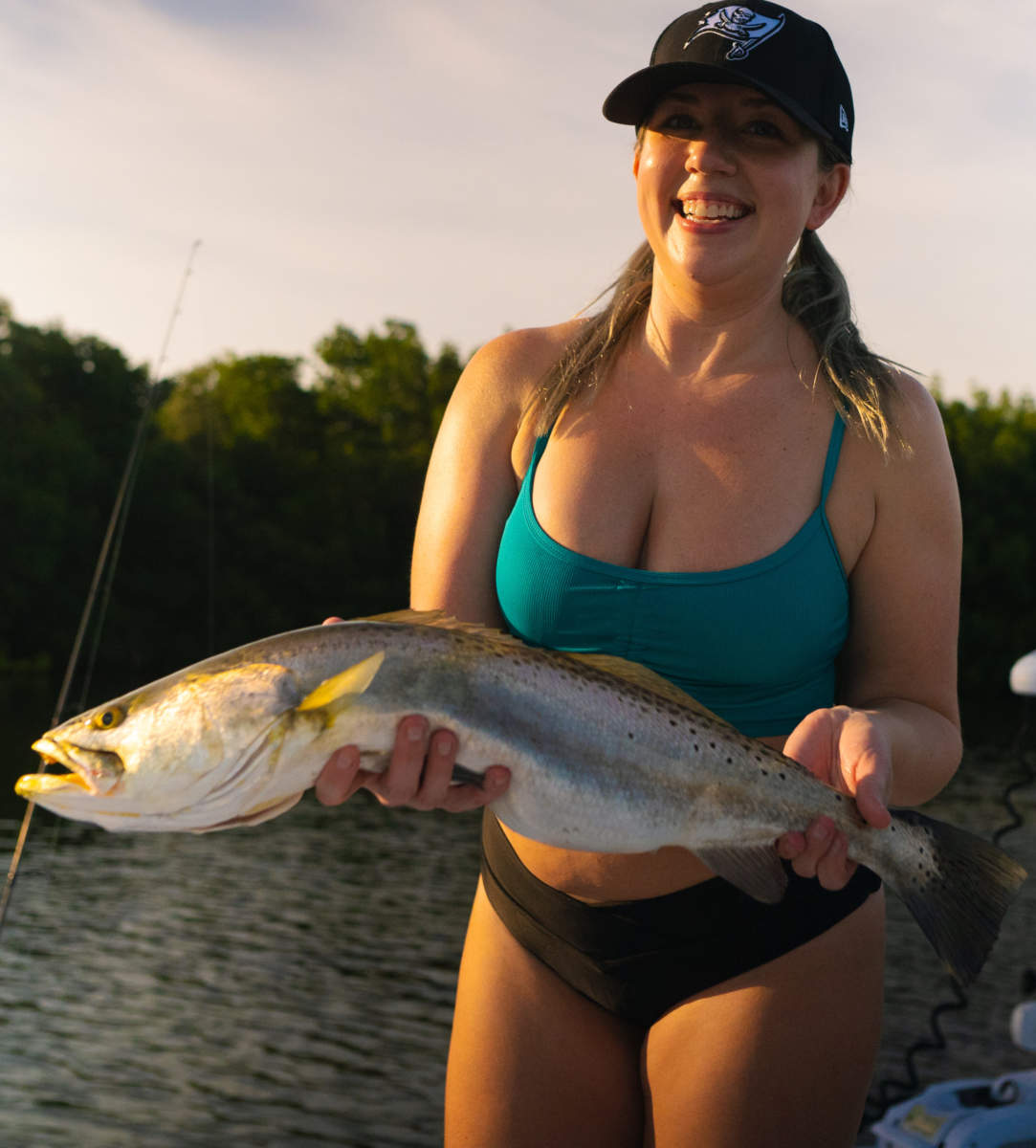 FAQs in Relation to Tampa Fishing Charters
Is Tampa Bay good for fishing?
Tampa Bay is a prime spot for fishing, with its diverse marine life and favorable conditions. It's renowned for inshore game fish like snook, redfish, and tarpon.
How much is a fishing charter in Tampa?
The cost of a fishing charter in Tampa can vary based on the duration and type of trip. On average, expect to pay between $400-$800 per day.
What fish is Tampa known for?
Tampa Bay is famous for its abundance of Tarpon – often referred to as the "Silver King" due to their size and fighting spirit. Snook and Redfish are also popular catches.
What is the best bait for fishing in Tampa Bay?
Pinfish, shrimp, mullet or greenbacks (scaled sardines) are commonly used baits that attract various species prevalent in Tampa waters.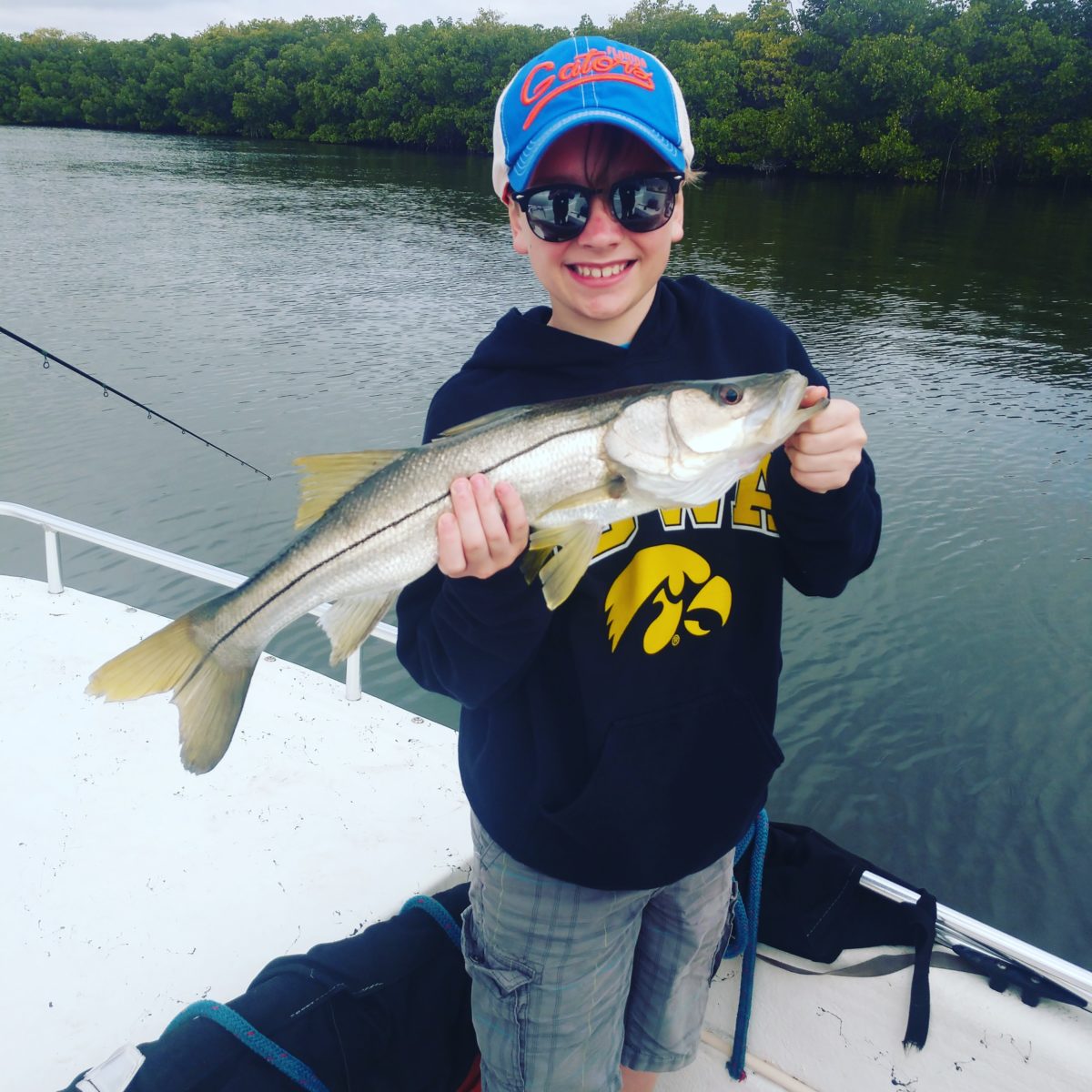 Conclusion
Exploring Tampa Fishing Charters with Captain Jason Dozier is an adventure like no other.
You've discovered how his local knowledge and passion for fishing provide a unique, unforgettable experience.
The thrill of super skinny water sight fishing has been unveiled, revealing why it's considered one of the most exciting types of flats fishing in Tampa Bay.
We've also delved into the variety of prized inshore game fish you can catch during your charter – proof that Tampa Bay is truly an angler's paradise.
Beyond just fishing, we touched on additional adventures offered by FishN Fl. From scallop charters to bird watching tours, there's something for everyone to enjoy!
Ease and convenience were highlighted as key features when booking your trip online through our user-friendly reservation system.
Last but not least, we've given you a taste of what awaits after your day out at sea – relaxing at some fantastic waterside eateries around Tampa Bay known for their delicious seafood offerings.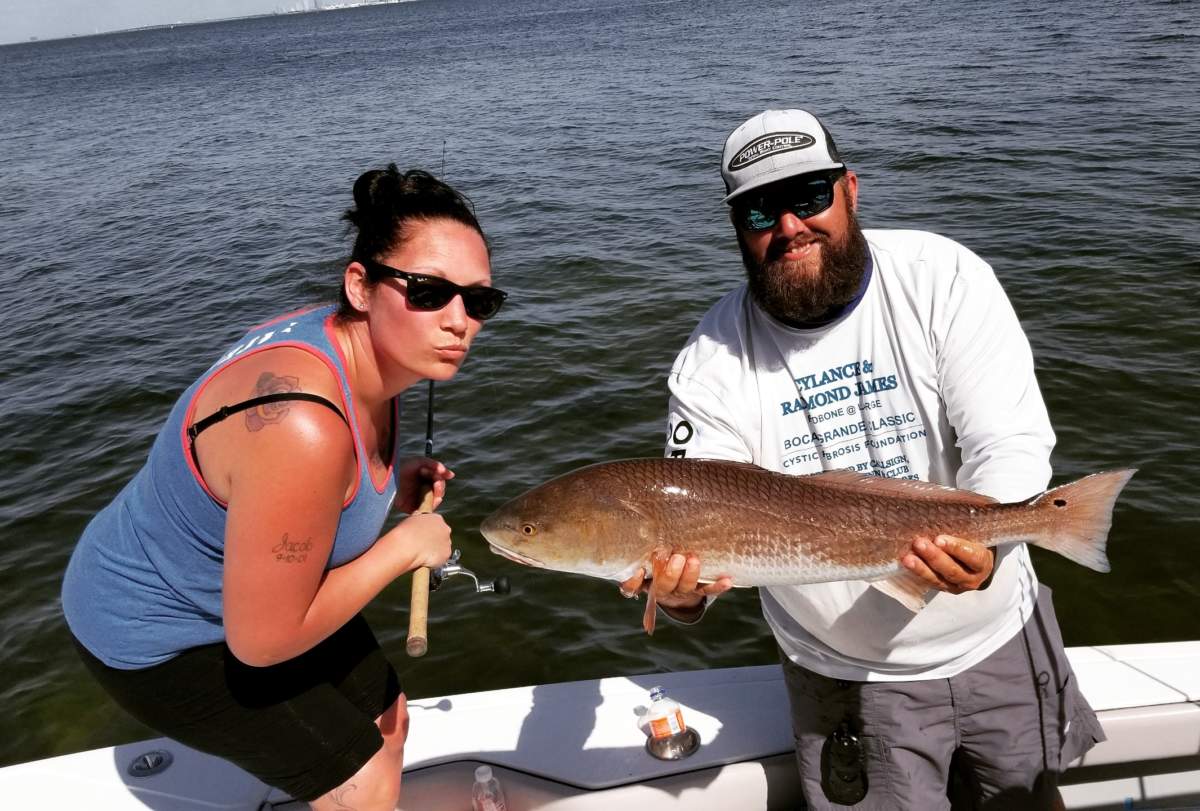 Don't hesitate to book your Tampa Fishing Charter adventure with FishN Fl – the ultimate experience awaits! Book now with FishN Fl, where every trip out onto the water promises new discoveries and memorable experiences. Your ultimate Tampa Fishing Charter adventure starts here!