Last Updated on June 6, 2013 by Capt. Jason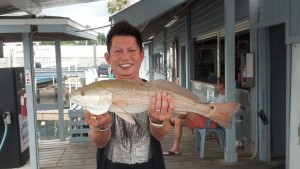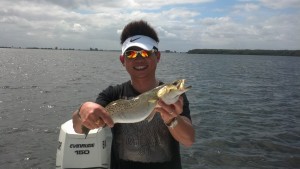 Friday I had some new clients that I picked up from the dock at 7:30 a.m.
Bait was easy, Thanks to teaming up with my buddy Capt. Tim
We started out at some known redfish areas and had a nice pod of reds boiling on my chummers. You could actually see the red in the water. I thought we where getting ready to start the lip soring…
Ended up missing quite a few bites for various reasons. We switched up tactics a little and ended up getting a nice red to the boat, and decided to move on to some other productive areas.
We ended up moving to a dropoff where we managed multiple nice upper slot Trout, and a few over 20 inches.
They also wanted to catch shark so we made a short move and ended up getting around a 3'4′ Black tip shark to the boat.
after the shark was boated I decided to head in because a storm was approaching quickly.
All in all, another great day of fishing in Beautiful Tampa Bay!!