Last Updated on May 3, 2023 by Staff Writer
As May 2023 unfolds, anglers in the Tampa Bay region are looking forward to a peak fishing season. Here's some info on current fishing conditions in the area and offers advice for those looking to make the most of their angling adventures along the Tampa coast.
Inshore Fishing: Redfish, Snook, and Trout
Tampa Bay is famous for its shallow water flats, making it an ideal destination for targeting redfish, snook, and trout. In May, these popular game fish are found in greater numbers as they feed in warmer waters.
Redfish can be found schooling along mangrove lines and oyster bars. Live bait options such as shrimp, pinfish, or greenbacks are recommended, though artificial lures like soft plastics or gold spoons can also be effective.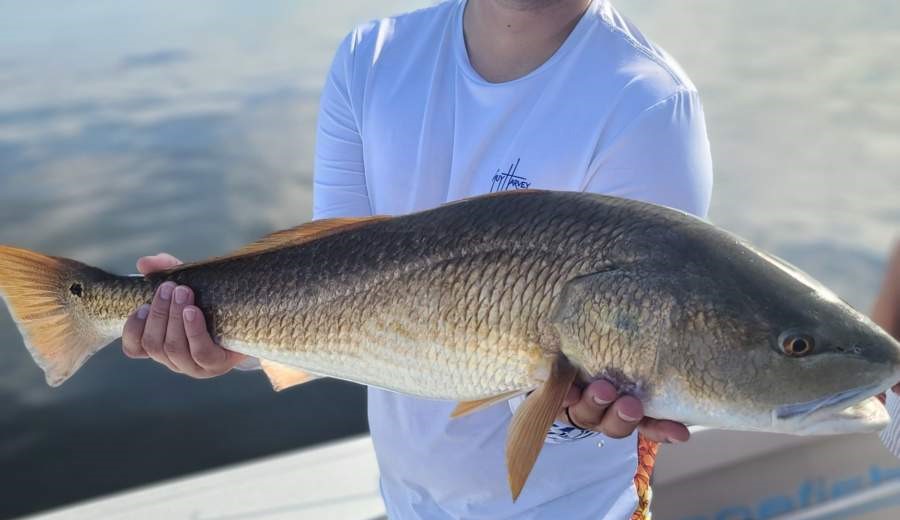 Snook start migrating towards beaches and passes in preparation for their summer spawning season. Focus on structures like docks, bridges, and mangrove shorelines. Live bait, such as sardines, pilchards, or shrimp, is essential for success when hunting down these line-siders.
Trout prefer deeper grass flats and channels. Live shrimp or soft plastic lures work well when targeting these fish. Remember to handle them gently when releasing them back into the water.
Tampa Tarpon Fishing
The annual tarpon migration begins in May, drawing thousands of these silver giants to the Tampa Bay area. To target tarpon, focus on the passes, bridges, and beaches where they gather. Live bait, including crabs or large threadfin herring, is most effective. Be prepared for an exhilarating fight, as tarpon are known for their acrobatic displays and powerful runs.
Offshore Fishing
Offshore fishing in Tampa Bay is thriving in May. Anglers can expect encounters with a variety of species, including grouper, snapper, amberjack, and kingfish. Live or frozen sardines, squid, and pinfish are effective baits for bottom fishing, while trolling with spoons, diving plugs, or live bait can yield impressive results when targeting pelagic species.

Homosassa Scalloping
Although scalloping season doesn't officially begin until July 1st, it's never too early to start preparing for this fun and family-friendly activity. Snorkeling for scallops in the crystal-clear waters of Homosassa combines the thrill of the hunt with the beauty of Florida's natural environment.
Discover Tampa Coast Fishing at Its Finest with FishnFL
Whether you're a seasoned angler or just starting out, Tampa Bay offers a myriad of fishing opportunities to suit all skill levels. This May, elevate your angling experience by taking part in a memorable trip with FishnFL.
With a Captain committed to providing exceptional fishing, FishnFL ensures you'll be in skilled hands as you navigate the Tampa coast fishing scene. Offering a diverse range of charters, including inshore fishing in Tampa Bay, scalloping in Homosassa, and even seasonal trips to the iconic Key West, FishnFL has something for everyone.
Take the plunge and immerse yourself in the captivating world of Tampa coast fishing with FishnFL. Check us out and book your trip for a truly unforgettable angling adventure. Your next great catch awaits!