Last Updated on May 28, 2013 by Capt. Jason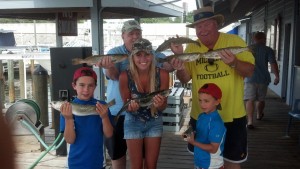 This weekend I fished the Black tip shootout shark tournament that was a photo catch and release tournament.
I picked up my clients Friday afternoon and we netted about 50 pounds of thread fin in two throws and we where off to my Super secret shark spot!!!! Right away we where hooked up on a few smaller sharks. We boated a couple two and three footers, before the bite slowed for an hour while the tide switched directions.
Then like a light switch we had poles doubled over all around the boat!! We where trying to put figure out which shark was bigger since two of them where really taking some line out.. We ended up boating around a 4 footer to finish up the evening trip.
Saturday morning we meet up and get bait, but boy was the wind just howling!! We decided to make the run into the bay to an area I know to hold larger sharks to see if we could fish for the big bite…
We get all settles in and anchored, and are doing everything right, but it was just too choppy. We where taking waves over the bow,and it was miserable so I moved us back into protected waters. we hooked into a few more smaller sharks, a black tip and a lemon. Also notably, we saw two huge Cobia that We just couldn't quite get a good throw onto, but I have been seeing multiple Cobia at this spot and anticipate landing one on this weekends charters.
Sun morning I picked up ED, and mike with their kids and took them trout fishing! we had a good trip catching numerous big trout! and missed some other fish due to the hook pulling or getting broke off.
Monday I got out with the Girlfriend and had a slow tarpon bite but ended up catching a really nice snook right at sunset!!
All and all a great week of fishing, and Catching!!!