Last Updated on November 8, 2021 by Staff Writer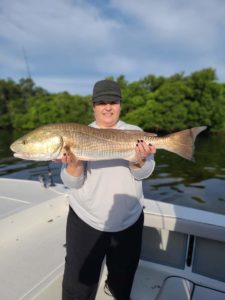 Temperatures are finally on a downward trend here in Tampa Bay.
When the weather gets cooler, it affects fishing in a good way.
This last full moon brought in a significant push of Big bull redfish into Tampa Bay.
My clients hooked into many of these over-slot breeder fish during my last few fishing charters.
Bait is still plentiful on the flats and should be for at least a few more cold fronts; Snook will be gorging themselves on any pilchard, shrimp, or pinfish that is cast within eyesight of them in anticipation of winter.
We have transitioned from an out-front fishery to fishing creek mouths and places with good current flow and deep water.
Trout have been around but not in number like we had seen before the Piney point Dump and subsequent red tide event that made its way into Tampa Bay earlier this year.
Once our water temperatures drop into the 60s, we will see how many trout we have left when they stack into the deep holes around Tampa Bay.
Tampa fishing will be on fire through November!
I have days available for fishing trips in November.
Call to book 813-956-5357
www.fishnfl.com/reservations