Last Updated on March 17, 2022 by Staff Writer
Think of Florida, and you think of sun, beautiful weather, and a myriad of awesome water-based activities.  There are a plethora of great outdoor activities to choose from, but one stands apart from the rest, offering visitors the opportunity to experience one of the most challenging and thrilling experiences on the planet.  
Shark fishing in Tampa is an adrenaline rush second to none with jaw-dropping action that will leave you breathless and speechless while having the time of your life.
Tampa is known for its inshore fishing with an abundance of available species, including redfish, snook, and trout, to name a few. 
However, one stands out among the rest. 
Sharks are the apex predator of Gulf Coast waters and a highly sought-after target for almost every saltwater angler.  The inshore waters of the Tampa area are the ideal habitat for sharks making it the perfect destination for shark fishing enthusiasts from around the world.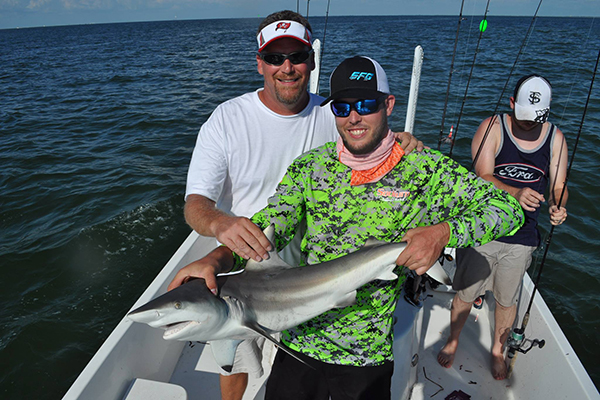 In addition to the fantastic habitat here, Tampa Bay is also unique because anglers have the chance to land many different kinds of sharks, including:
Blacktip Sharks

Bonnethead Sharks

Hammerhead Sharks

Bull Sharks

And, more  
Shark sizes vary from as small as 2 feet long to upwards of 10 feet in length.  Weights can vary, but some big boys can tip the scales at as much as 500 pounds!
Since shark fishing requires special knowledge, booking a trip with a charter captain is highly recommended. 
Although sharks are always present here, the summer months are typically the best time to schedule a Tampa Bay shark fishing excursion.  
Charter trips are all-inclusive and take care of everything you need for an excellent shark outing.   Captains are well-equipped to keep things safe and make your time on the water productive and fun while removing all of the hassles of trip preparation and cleanup.  
Final Word
Sharks are fierce predators, and there's no mistaking their sheer power and raw might. Hook up with a Tampa shark, and you'll quickly grasp the magnitude of their strength and willpower.  
Fighting a shark takes patience and skill, but with the proper guidance, you'll be on your way to landing one of these beasts of the ocean.  
Capt. Jason Dozier is a veteran guide and angler who focuses his efforts on the waters of Tampa Bay with extensive shark fishing experience.
Contact him today to put together a shark fishing trip sure to put fish in the boat and a smile on your face!