Last Updated on May 26, 2011 by Capt. Jason
In short… the bite is on! The past 10 days or so have been nothing short of spectacular. Tarpon are here in great numbers and they are chewing. Fish up to 140lbs have been brought boat-side and most tarpon we're hooking are 100lbs or better. The last few days have been a real early morning bite. We've left the dock at 6am and each of the last three days we've hooked at least 3 tarpon by 7:30am.
The bite in the morning has been best when using crabs for bait. The first drift through the fish has produced at least one bite every day this week when using crabs. Mid morning the bite has died and then early afternoon has produced another good bite using both crabs and threadfin herring. Tides will start getting real good again this weekend and look for the tarpon bite on crabs to get better and last longer during the day.
There have also been some really cool by-catches this week including this nice cobia we picked up while running the beaches looking for more tarpon. We've also caught some keeper grouper, snapper, sharks and spanish mackerel.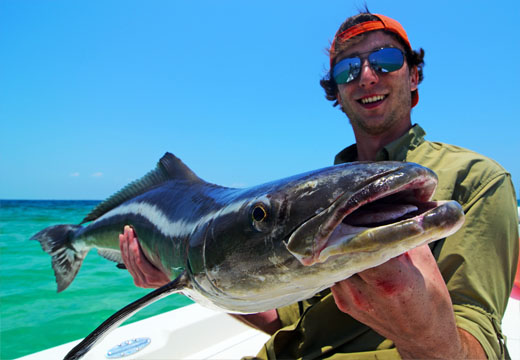 June still has a few good dates open for tarpon fishing and July is surprisingly pretty open. If you're looking to get in on the action, give me a call or email me as soon as you get a chance.