Last Updated on October 14, 2022 by Staff Writer
If you're looking for a hot spot to fish for snook right now, Tampa Bay is the place to be. These fish are biting like crazy, and plenty of them go around. So if you're looking for serious action, come to Tampa Bay and try to catch one of these fantastic fish. You won't regret it!
The Fall Snook Bite
Fall fishing in Tampa Bay starts to heat up as the weather begins to cool off and the water temperatures drop. This is the time of year when redfish become more active, making them a popular target for anglers. However, snook are also biting well right now and can offer a nice change of pace from the usual redfish action.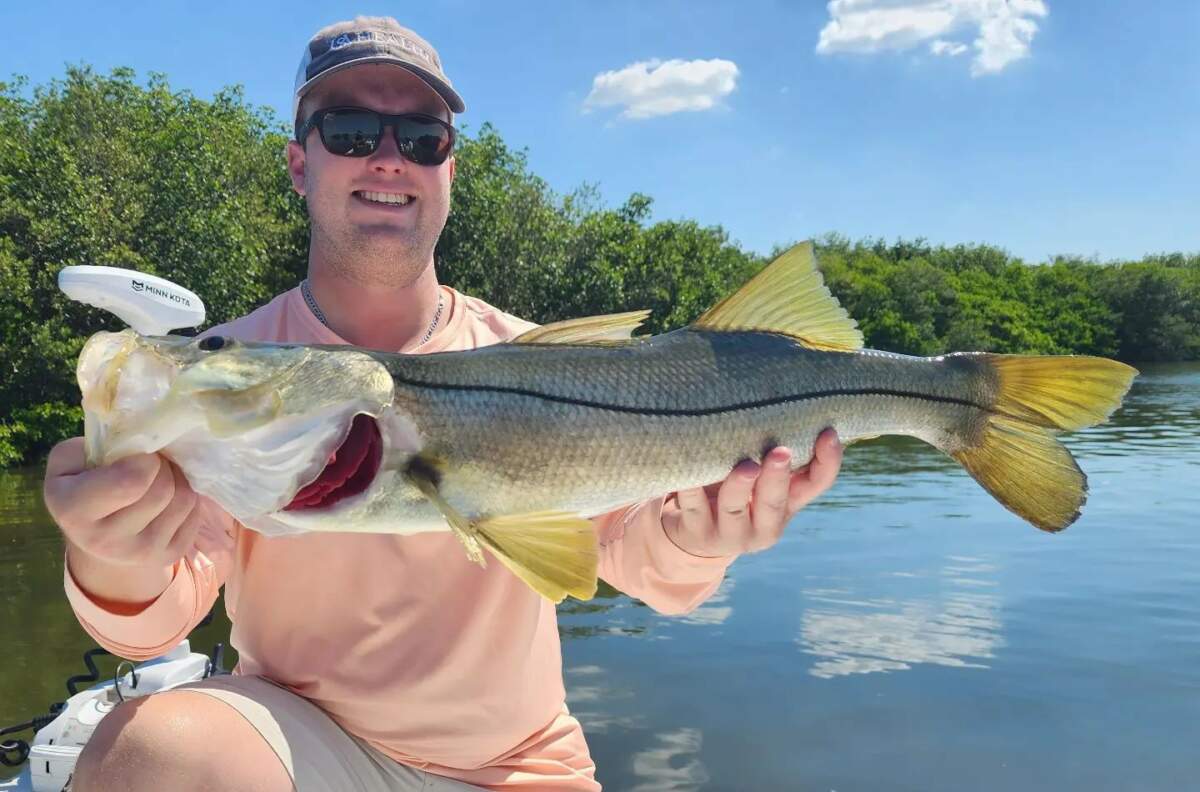 These hard-fighting fish can be found in a variety of habitats, from mangrove-lined shorelines to deep channel edges. They're biting hard right now and provide a great opportunity to break away from the Red October crowds.
Fall Inshore Slam
Redfish are especially plentiful during this time of year, so anglers have a good chance of hooking into one of these feisty fish.
Big snook are also pulling drag during the fall months, so fishermen should be prepared for a fight when targeting these fish.
Seatrout are always around inshore waters, making them a reliable catch throughout the fall season.
By targeting these three species of fish, anglers can easily achieve an inshore slam this fall.
(You also might find a resident juvenile tarpon around, to round out a grand slam. Just saw one caught this morning).

The Waters Are Less Crowded
In the summer, I am booked almost every day of the week with people eager to spend their vacation days fishing in the beautiful weather. However, once school starts back up again, the number of charter requests drops significantly. For many families, summer is the only time they have available to take a trip.
For those who love Florida inshore fishing, fall is a missed opportunity. Not only does this time of year make all of the most sought-after species readily available in heftier sizes, but the weather is awesome. Cool days, low humidity, and far fewer bugs are a few reasons fall fishing is so enjoyable.
So don't miss out on this incredible opportunity – You'll be in for a treat if you can find a day or two to get away and hop on a fishing charter. The fish will be biting, and you'll have the time of your life.
Fish Fall With Fishn'Fl
If you're looking for a great charter to take you out on the water this fall, look no further than Fishn'Fl. We know these waters like the back of our hand and can put you on the fish in no time.
Plus, we love teaching people how to fish. Whether you're a seasoned angler or have never picked up a rod before, we'll make sure you have a great time and leave with some great memories.