Last Updated on May 12, 2023 by Staff Writer
Key West, a paradise nestled at the end of the Florida Keys, is known for its vibrant sunsets, historic landmarks, and, most notably, its thrilling aquatic activities. Among these, one stands out as a seasonal gem – lobstering.
The spiny lobster, a delicacy savored on the grill, is the star of this underwater treasure hunt. This summer, why not switch up your fishing routine and dive into the warm, clear waters of Key West on an unforgettable lobstering adventure? Not only does this unique experience offer the chance to catch a delicious dinner, but it also promises an exhilarating experience that will stay with you long after your tan lines have faded.
Timing Your Lobstering Adventure
The lobster season in the Florida Keys is a momentous period on the calendar, eagerly anticipated by locals and tourists alike. It typically runs from August 6th to March 31st. However, the dates can fluctuate, so it's always good to stay informed. In 2023, the mini-season is set to kick off on July 26th and 27th, paving the way for the long season starting on August 6th.

Navigating the Lobstering Experience
Catching a spiny lobster is a rewarding challenge that adds a dash of excitement to your fishing trip. Unlike their clawed counterparts, these lobsters require a gentler approach – a simple "tickle" to coax them into your net. Then, it's time to head back to the dock and transform your catch into a mouth-watering feast.
Unwind and Explore in Key West
While the thrill of lobstering is a highlight of the Keys, there's much more to enjoy. Rich in history and natural beauty, the area boasts many state parks with breathtaking views of the famous 7-mile bridge. Shopping enthusiasts will love the charming boutiques, and foodies can indulge in the local cuisine at quaint diners.
And when the sun sets, Key West's nightlife springs to life. Duval Street, the heart of the city's entertainment scene, is packed with bars and clubs that cater to every taste.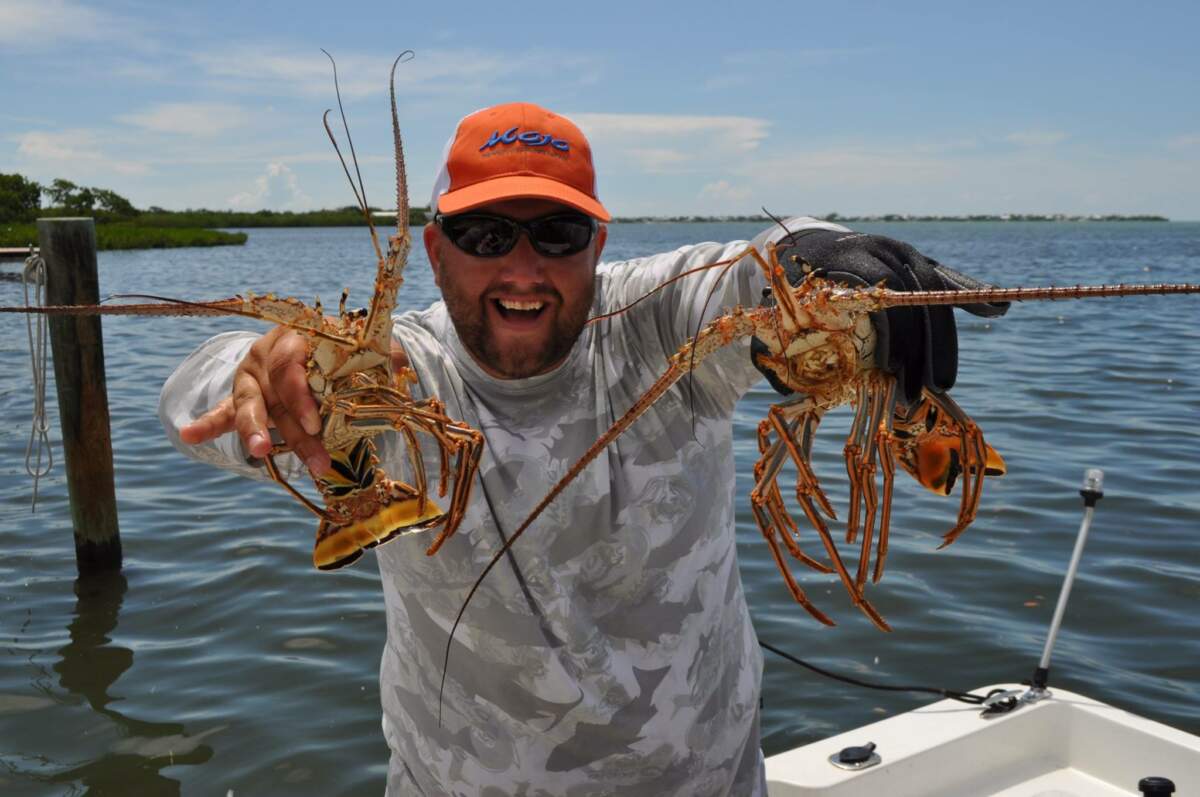 Embark on a Key West Lobstering Adventure with FishnFL
When you're ready to turn your Key West dream into a reality, consider signing up for a lobster charter with FishnFL. With a seasoned guide like Captain Jason at the helm, your lobstering journey is destined to be both safe and successful. His extensive local knowledge and passion for the sea ensure a unique and thrilling adventure for everyone on board.
Whether you're a seasoned lobster hunter or a first-timer, there's nothing quite like the thrill of diving into the crystal-clear waters of Key West and surfacing with a delicious dinner. So why wait? Dive into this unforgettable experience and make your Key West trip truly extraordinary. Book your lobster charter with FishnFL today and prepare for a vacation you'll never forget!