Last Updated on June 13, 2023 by Staff Writer
Renowned for its angling opportunities, Florida's West Coast, specifically the region surrounding Tampa, draws in fishing enthusiasts from around the globe. Among the myriad of species available to target, the Red Snapper holds a special place. It's not only admired for its delectable taste but also for the challenge it presents to anglers. Catching a Red Snapper is an experience that all anglers, novice or seasoned, must undertake.
This comprehensive guide is designed to introduce you to the best spots for Red Snapper fishing in Tampa and recommend top-notch charter services that can guide you to these prime locations. No matter your skill level or familiarity with Tampa's waters, this guide can steer you toward a successful Red Snapper fishing expedition.
Understanding the Red Snapper
Red Snapper (Lutjanus campechanus) is a coveted saltwater game fish, highly sought-after for its fight and culinary value. These fish are typically found in deeper waters, particularly over reefs, shipwrecks, and rocky formations. Notably, the Red Snapper is a federally managed species, meaning it has specific seasons and size limits to ensure sustainable fishing practices.
Traditionally, the Red Snapper season opens in early June and concludes in late July. Nonetheless, it is crucial to verify the exact dates and regulations with the Florida Fish and Wildlife Conservation Commission each year to ensure compliance with any updates or changes.
Best Spots for Red Snapper Fishing
Casting your line in the right spot is key to a successful Red Snapper fishing expedition. Here are a few of the best locations in and around Tampa:
The Middle Grounds: About 80-100 miles offshore from Tampa Bay, the Middle Grounds are renowned for their abundance of Red Snapper. This area is a network of hard-bottom contours and is considered one of the richest fishing grounds in Florida.
Elbow Area: The Elbow, located approximately 85 miles offshore, is another hotspot for Red Snapper. It's named for the bend in the continental shelf where big-game species, including the Red Snapper, tend to congregate.
St. Pete Open Bottom: This expansive area located southwest of St. Petersburg is an excellent spot for Red Snapper. The open-bottom territory, combined with several ledges and artificial reefs, make it a perfect habitat for these fish.
Choosing the Right Charter Service: Why FishnFL Stands Out
At the heart of FishnFL is Captain Jason Dozier. Raised in Florida, Capt. Jason brings an authentic passion to every fishing expedition, fostering an atmosphere that complements the thrilling pursuit of Red Snapper. His deep-rooted understanding of Florida's backcountry and inter-coastal waterways, backed by a U.S. Coast Guard 50 ton masters captain license, makes him a reliable guide in the diverse Tampa Bay fishing environment.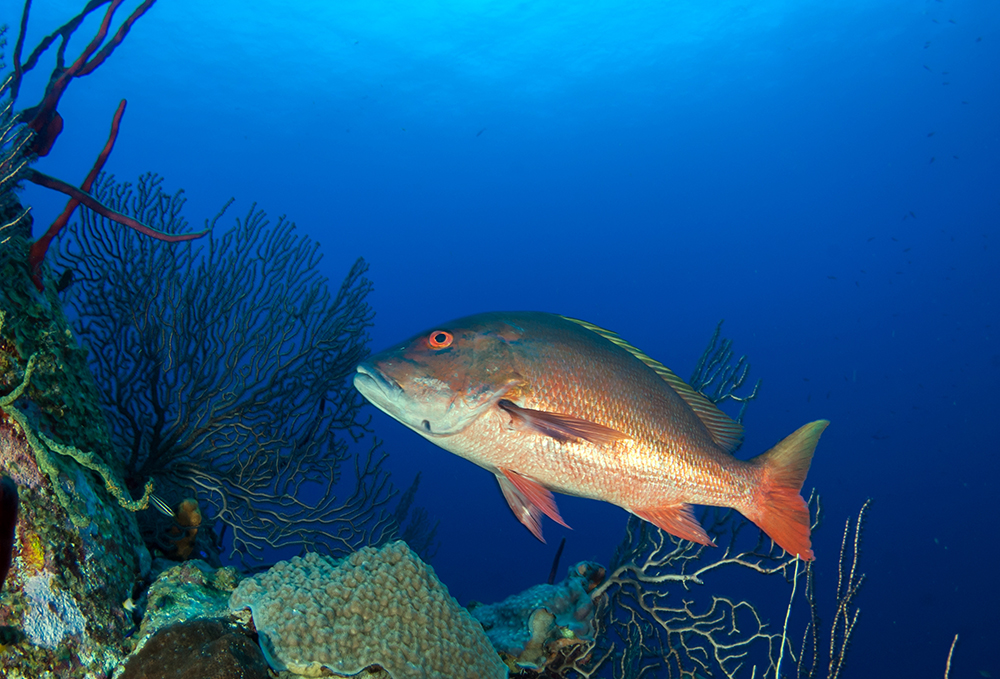 When it comes to successful Red Snapper fishing in Tampa's waters, FishnFL is the go-to for full-day excursions. With a deep understanding of the best spots and techniques, their professional knowledge is the hallmark of their service. But more than just getting a great catch, FishnFL's passion for the sport is infectious. They believe that enjoying the beauty of Tampa's waters is just as important as the catch itself. That's why their excursions are designed to provide an experience that caters to both seasoned anglers and newcomers alike. So if you're looking for expert guidance and an unforgettable adventure, book your trip with FishnFL today.