Last Updated on May 31, 2023 by Staff Writer
Florida is a paradise of sun, sand, and sea, and while many flock here for the traditional fishing experience, another exciting activity has been capturing the hearts of residents and tourists alike: lobstering. The Key West region, in particular, offers a unique opportunity to dive into the azure waters and seek out the incredible spiny lobster, an ocean-going game that promises both a fun adventure and a fantastic feast. Here are some tips for beginners embarking on the 2023 Florida Lobster Season.
Understanding the Lobstering Season
The Florida Keys are known for their lobster season, an exciting time that's eagerly anticipated by all who live in or visit the area. The season typically runs from August 6th to March 31st, with a special mini-season that kicks off earlier. For the year 2023, the mini-season is set to begin on July 26th and 27th, followed by the start of the long season on August 6th.
It's essential to note these dates, as hunting lobsters outside of these periods is not permitted, and regulations are strictly enforced to ensure the continued health and sustainability of the lobster population.

The Hunt for the Spiny Lobster
Unlike their clawed cousins, Florida's spiny lobsters are primarily caught using a method known as "tickling." The process involves diving down, locating the lobster, and gently coaxing it into your net using a specialized stick, aptly known as a tickle stick. It's a fun and accessible activity that only requires basic swimming skills, making it suitable for almost anyone.
Safety and Regulations
Before you begin your lobstering adventure, make sure you're familiar with the local regulations and safety precautions. These include:
Ensuring you have a valid saltwater fishing license and a lobster permit.
Knowing the legal size limit for lobsters (the carapace must be larger than 3 inches).
Never taking more than the daily bag limit, which is typically 6 per person for the regular season.
Avoiding egg-bearing females, which are protected and must not be harvested.
The Florida Fish and Wildlife Conservation Commission (FWC) provides detailed guidelines, so be sure to review these thoroughly.
Make the Most of Your Key West Experience
While lobstering is undoubtedly a thrilling adventure, don't miss out on the other experiences the Florida Keys has to offer. The region is rich in history, with stunning state parks and breath-taking views of the famous 7-mile bridge. For those seeking a bit of retail therapy, Key West boasts charming boutiques and unique shopping experiences. And, of course, the local cuisine is a must-try, with quaint diners offering delectable seafood dishes.
As the sun sets, Key West transforms into a lively hub of entertainment, with bars and clubs offering a range of experiences to suit every taste.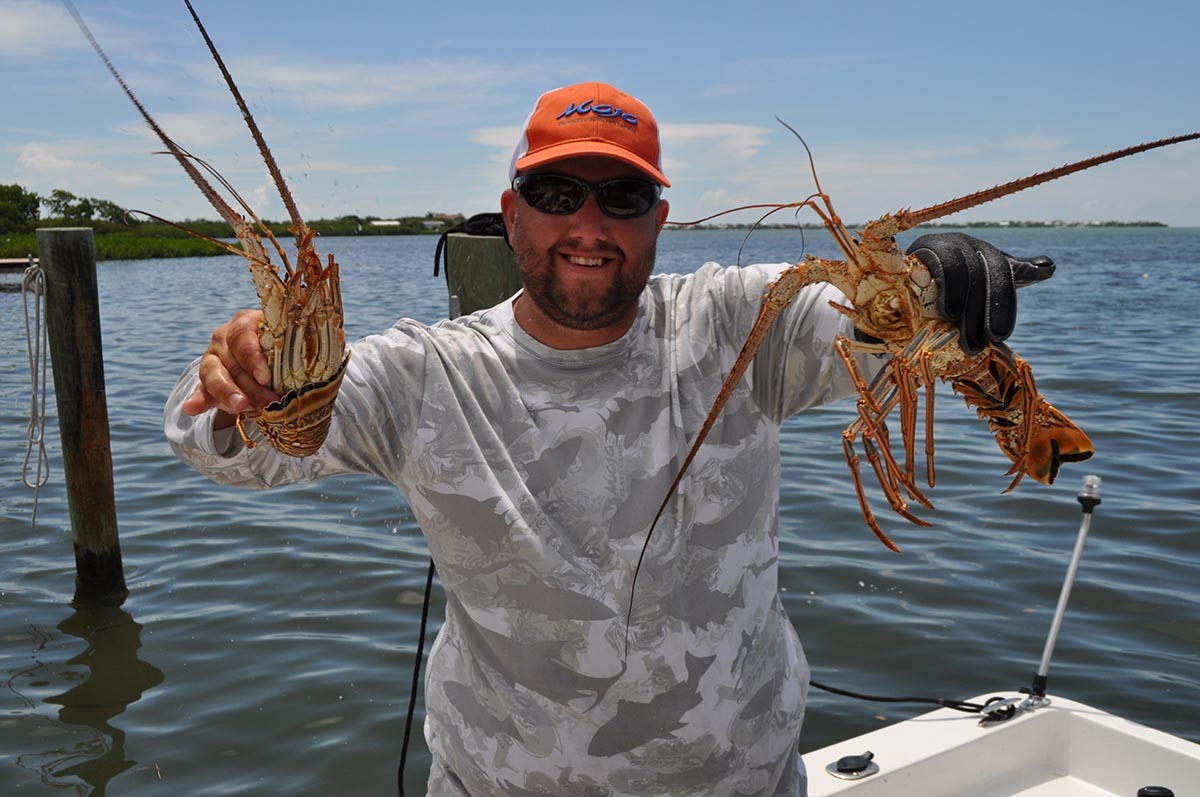 Setting Sail on Your Lobstering Adventure
Embarking on a lobstering adventure in Key West, Florida, is an experience like no other. It combines the excitement of the hunt with the promise of a delicious reward, all set against the backdrop of the stunning Florida Keys. Remember to check out the regulations before you go, and most importantly, enjoy every moment of your underwater treasure hunt.
And, if you're looking for a guided adventure with a knowledgeable captain to lead the way, consider a lobster charter with FishnFL. Under the guidance of Captain Jason Dozier, you're sure to have a safe, exciting, and unforgettable experience; book your trip today!