Last Updated on November 28, 2022 by Staff Writer
Redfish are one of the most popular inshore saltwater game fish in Florida, and targeting them in Tampa Bay during winter can be a blast. Let's talk about these inshore monsters and why fishing them in December in Tampa Bay is when and where you need to be. So grab your rod and reel, put on your sunscreen, and let's go fishing!
Tampa Bay Reds
Tampa Bay is well-known for its abundance of redfish, which makes it a popular destination for anglers from all over. While the peak season for redfish starts in the fall, the trace of the peak season can extend well into winter. This makes December an ideal time to go fishing for Tampa Bay reds. Redfish are a pelagic species of fish that live inshore in their adolescence and move into nearshore waters in search of larger and more appealing food until they come inshore during late summer to late Fall for the spawning season.
This event is known as the bull redfish run. Also, the bull redfish run coincides with the mullet run as the smaller baitfish find warmer waters to survive the winter. Making Tampa Bay the perfect fishing destination. Not only does it offer great year-round fishing, but it also provides anglers with the opportunity to catch some genuinely massive redfish. So if you're looking for a great place to fish this winter, check out Tampa Bay. You won't be disappointed.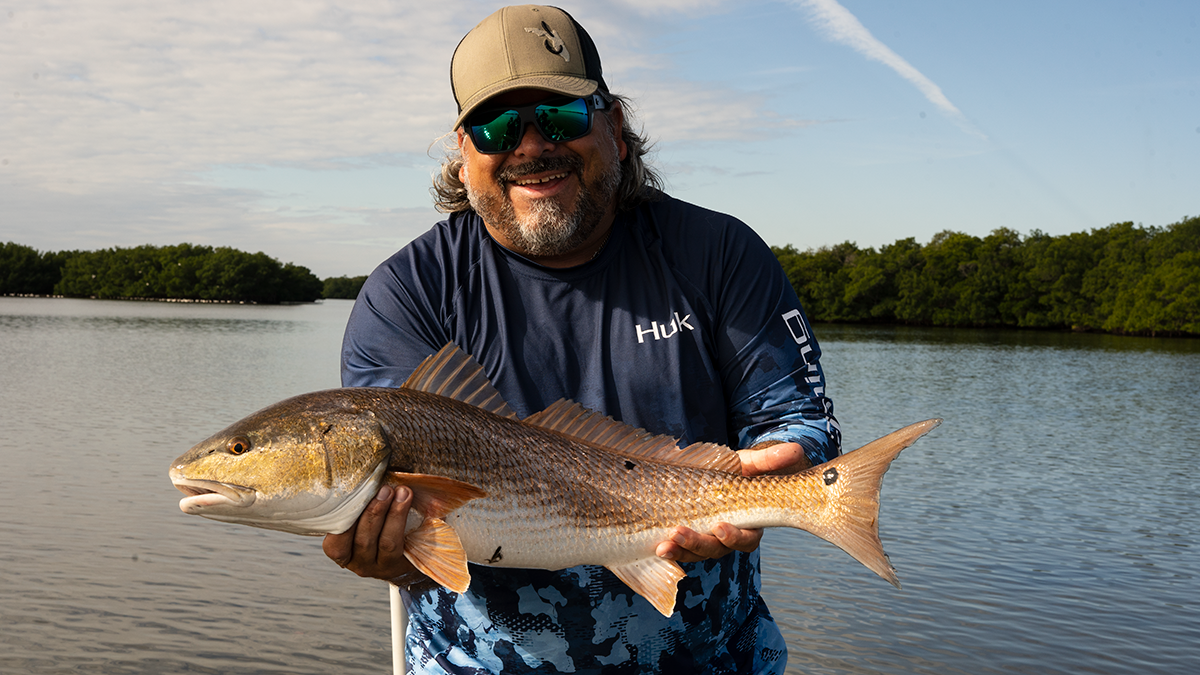 Targeting Winter-Time Redfish
As the weather cools and the tides become more exaggerated, the method for catching redfish changes. During the warmer months, redfish can be caught in various locations using natural swimming bait such as mullet, menhaden, or lures resembling these small bait fish. But during the cooler months, redfish become more interested in crustaceans such as shrimp and crab; they also are more likely to be found closer inshore in the flats and backcountry waterways in search of warmer waters and baitfish and crustaceans which are also looking for warm, safe places to hide out the winter.
A telltale sign that you've found some redfish in the flats is if you spot a fish "tailing;" this is when the redfish are digging their "snouts" in the muddy surface of the bottom in search of crabs that have burrowed in. Once you've located some redfish tailing, you're in the right spot; you have to plug and play with different casting and reeling methods until you find one that entices the fish enough to take a bite. With patience and know-how, anglers can enjoy success catching redfish year-round in Tampa Bay.

Get On the Water Today!
There are few things more rewarding than a great day of fishing. And there are few places better for fishing than Tampa Bay, Florida. The mild climate and diverse ecosystem make Tampa Bay a prime destination for anglers of all skill levels. Whether you're an experienced fisherman looking to test your skills against some of the biggest fish in the Gulf of Mexico, or a novice angler hoping to land your first big catch, Tampa Bay has something to offer.
And there's no one better suited to help you enjoy a day of fishing in Tampa Bay than Captain Jason Dozier. A native of Florida, Captain Jason knows these waters like the back of his hand. He's been fishing these waters since he was a child, and he's made a career perfecting his craft. When you book a trip with Captain Jason, you can be confident that you're in good hands. So if you're looking for an unforgettable fishing experience, book a trip with Captain Jason at FishnFL today!